Sebastian Coe vaults past Bubka to win IAAF presidency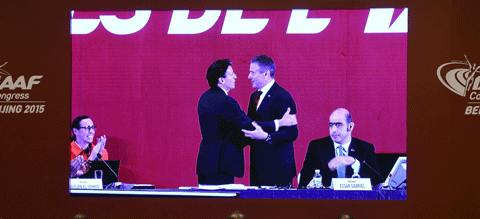 Eighties sports icon, former member of parliament and the architect of the 2012 London Olympics, Sebastian Coe on Wednesday succeeded in landing one of the most important jobs in sport.
Coe beat Ukraine's former pole vault legend Sergey Bubka 115-92 in a straight vote of the 207 members of the International Association of Athletics Federations to take over from Lamine Diack as IAAF president.
The Briton, like Bubka, will have few detractors among the athletes he will now serve.
Coe won Olympic gold in the 1,500 metres at the 1980 and 1984 Games. He also claimed two Olympic silvers in the 800m. In his career, he set eight outdoor and three indoor world records in middle-distance track events, and his world record in the 800m stood from 1981-1997.
But the 58-year-old's first job as IAAF president will be to defend athletics from stinging allegations of widespread doping which have cast a shadow over the world championships which kick off on Saturday in Beijing.
Coe has vented his anger at claims in British and German media that the IAAF had failed to follow up on suspicious blood tests involving hundreds of athletes between 2001 and 2012, calling any such claim a "declaration of war" on the sport.
He has bristled at suggestions that the sport's governing body has been guilty of a cover-up following the potentially damaging revelations of leaked data from 12,000 blood tests.
Coe's manifesto included a commitment to breaking with the World Anti-Doping Agency (WADA) and setting up an independent anti-doping body -- unlike Bubka -- as well as the establishment of a new IAAF ethics department.
The image of a wild-eyed Coe, arms stretched out wide as he crossed the line to win gold at the 1980 Moscow Olympics remains an enduring image of an era marked by political tension and Olympic boycotts, while his rivalry with countryman Steve Ovett gripped his nation.
First elected an IAAF vice-president in 2007, Coe, who is also chairman of the British Olympic Committee, has matched his phenomenal record on the track with his achievements in politics and sports administration.
After serving in Britain's parliament for five years, he went on to be named the first chairman of FIFA's ethics commission in 2006 but stood down to join the English committee that failed in its bid to bring the World Cup to England in 2018.
The articulate Coe then steered the highly successful London Olympics, widely hailed as one of the best Games ever staged.
The former Conservative MP has been criss-crossing the globe to woo the association's 214 member federations, pledging to pay $100,000 (90,000 euros) over four years to each one to fund facilities, buy equipment and train athletes and coaches.
Follow Emirates 24|7 on Google News.