Djokovic and Federer face-off in Dubai final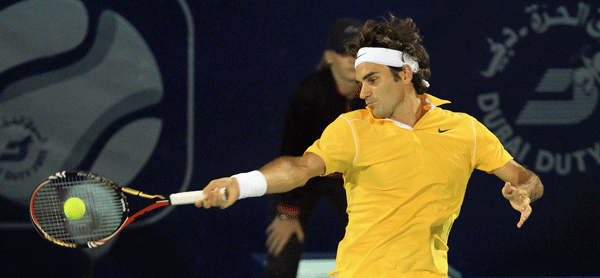 It will be the match that everyone was waiting for as defending champion Novak Djokovic faces top seed and former four-time winner Roger Federer in the final of the Dubai Duty Free Tennis Championships at Aviation Club on Saturday.
Djokovic advanced when third seeded Czech Tomas Berdych retired with an injury in the third set to leave the second seeded Serbian a 6-7 6-2 4-2 winner, while Federer was briefly threatened before dismissing unseeded Richard Gasquet 6-2 7-5.
Djokovic looked slow throughout the first set, but both players easily held serve through the first 11 games. Djokovic then found himself under pressure as Berdych held two set points, but Djokovic saved the first with an ace and Berdych netted a forehand on the second. Berdych, though, went on to take the tiebreak on his fifth set point.
Djokovic stepped up his game in the second set, claiming a break at 2-1 when Berdych netted a backhand, Another backhand error then gave Djokovic a further break for the set, and Berdych summoned the trainer and had his left leg massaged.
In the final set, Djokovic earned a break to lead 4-2 with a fine service return that landed on the baseline, and Berdych retired two points later.
"The problem was my left quadriceps," Berdych said. "Was not able just to serve, move to the sides, and just feel the pain. It's no chance to just play with this guy in the conditions that I was feeling. So, you know, just didn't make sense to be walking sides and just be able to finish, so that's not my style. I felt it just too much for the serve and I couldn't serve. To play Novak, one of the best return players, this time to play without the serve, no chance."
Although he won the match, Djokovic was far from happy with his performance.
"I don't know how to explain today's match really. In one word, catastrophe," he said. "I think the match overall and my game, it was the worst I think match this year for me, worst performance. But I managed to get a win, so I guess that's what matters. I hate when I play this way, but I was still trying to fight within myself and try to stay focused and at least hold the serve."
Federer had won his last seven matches against Gasquet, and he dominated the opening set against the Frenchman, breaking in the first game with a forehand winner and again for 5-2 when Gasquet double-faulted and then made a backhand error.
The second set then went with serve until Gasquet broke to lead 5-3 when Federer netted a backhand, but he was unable to serve out the set, attempting a dropshot that fell short on break point. Federer then broke him again for 6-5 and served out the match to love.
"I was very happy about my performance from the start," said Federer. "I felt I was hitting the ball well. He's been playing well here and to play him in the later stages of a tournament I think always makes him somewhat more dangerous just because he's found the groove.
"He's one of the guys I really enjoy playing the most on tour. He's got a wonderful backhand, great shot-making, and always creates great points playing against each other.
"I thought tonight I played the right way. Obviously should have gone or could have gone three sets, but I was able to avoid that. Then he had a bit of a slump towards the end, which I was able to take advantage of."
Djokovic says he is ready for the ultimate challenge as he bids for his third successive title on Saturday.
"I've played well over the years in this centre court, especially in the night matches so I look forward to it," said Djokovic. "We played many times. In last four, five months, we played five matches or something. It was always very close. You know, I can expect a really good match. We know each other really well. We know each other's game. Mostly in last three, four years we had matches in semis or finals. It's always high stake and big challenge. That's what it's all about. If you want to be the best, you have to win against the best."
Federer knows it will be a tough match, but it's one he is looking forward to after losing to Djokovic in the semi-finals of the Australian Open.
"He's but been playing well. He hasn't lost a match yet this season," said Federer. "Maybe a bit of an up and down perform here this last week, but he's been playing some day matches, some night matches against some tricky opponents, and that obviously makes it harder. Berdych has been playing well lately as well. I always expected that to be a tough one.
"Look, again his class showed. He made it to another final. He's obviously looking to get the hat trick here. I hope to stop him and get my fifth. See how it goes."
The Dubai Duty Free Tennis Championships is owned and organised by Dubai Duty Free and held under the patronage of His Highness Sheikh Mohammed bin Rashid Al Maktoum, Vice-President and Prime Minister of the UAE and Ruler of Dubai.
Follow Emirates 24|7 on Google News.