Djokovic won't rest on laurels after dream double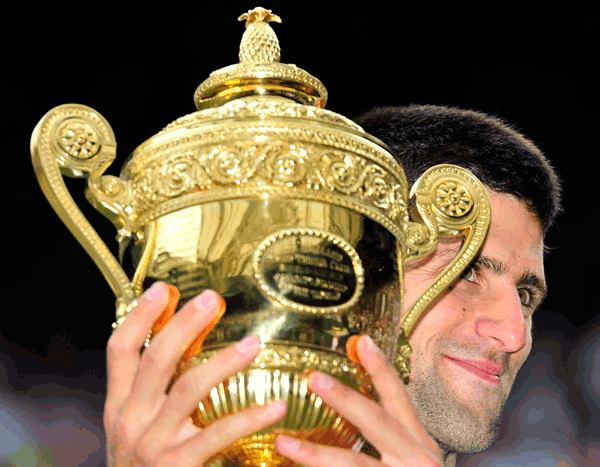 Novak Djokovic insists he won't rest on his laurels after the Serb completed a dream double by winning his first Wimbledon crown just days after his coronation as the world's top player.
In the space of just three days, Djokovic has knocked Rafael Nadal from his position on top of the rankings thanks to his semifinal victory over Jo-Wilfried Tsonga and then taken the Spaniard's Wimbledon title with 6-4, 6-1, 1-6, 6-3 in Sunday's final.
From the moment he first watched Wimbledon at home in Belgrade and then from the German tennis academy he was sent to aged just 12, Djokovic has yearned to win at the All England Club.
Now the 24-year-old has reached the summit of those ambitions, but he has no intention of stopping to enjoy the view for long.
Djokovic currently has three Grand Slam titles to his name and he is desperate to get closer to the likes of Nadal, who has won 10 Majors.
"I will definitely come for some more Wimbledons, more Grand Slam trophies. This is what I'm born for. I want to be a tennis champion. I want to win more Grand Slams," he said.
"I will not definitely stop here, even though I have achieved two of the biggest things in my life.
"I managed to make my dreams come true, all in three days. It's just an incredible feeling that I'm never going to forget. This is the best day of my tennis career.
"I was just chatting with my family and my team in the locker room and remembering those days of the hard work that we put into in Germany and back in Serbia and the dreams that I had. It's really beautiful."
Until the start of this year it seemed Nadal and Roger Federer's hold on the top prizes in men's tennis was almost unbreakable, but Djokovic has shaken the old guard with an astonishing run of 48 wins from his last 49 matches since the turn of the year.
Djokovic has won two of this year's three Grand Slams, with his only defeat of the entire year coming in the French Open semifinals against Federer.
He is also the first man other than Nadal or Federer to be ranked number one since February 2004, and the first Wimbledon champion other than those two since Lleyton Hewitt in 2002.
Yet it was only when he led Serbia to victory in the Davis Cup final against Spain in December that he finally felt his inferiority complex about his place alongside Nadal and Federer had been lifted.
"I would lie to you if I didn't have doubts. I did have difficult, crisis times where I didn't know if I could really make it because the first two guys were so dominant," he said.
"It did feel a bit frustrating when getting to the later stages of a Grand Slam and then you have to meet Federer and Nadal.
"But it's a process of learning, a process of developing and improving as a tennis player, as a person, and just finding the way to mentally overcome those pressures and expectations.
"After the Davis Cup win I was full of life, full of energy, eager to come back to the tennis court and win some other tournaments. I lost my fear. I believed in my abilities more than ever."
It was already clear from his four victories over Nadal in Masters finals this year that Djokovic had the ability to subdue the Spaniard.
But this victory - his first against the Nadal in a Grand Slam - was still a life-changing moment for the Serb, especially the way he put Nadal to the sword in the first two sets.
"You have to enjoy the moment, winning two sets in just over an hour against the defending champion on the court that he hasn't lost for three years was incredible," he said.
"Obviously, it was the best tennis match on grass courts that I've played ever. It came in the right moment.
"I think most of the tennis players rate this Grand Slam as the most important tournament in our sport. So that sentence gives you an idea of how much this means for a player to win here."

Follow Emirates 24|7 on Google News.