Impossible for Djokovic to keep winning: Nadal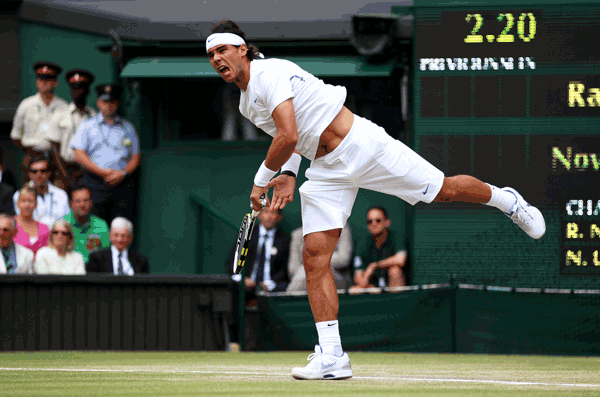 Rafael Nadal insists Novak Djokovic cannot keep winning and he will be first in the queue ready to pounce when the Serb finally cracks.
Djokovic, who will dethrone Nadal as world number one on Monday, also took the Spaniard's Wimbledon title on Sunday with a 6-4, 6-1, 1-6, 6-3 win, ending his opponent's 20-match winning streak at the All England Club.
It also took his record since Serbia's maiden Davis Cup triumph last December to 50 wins in 51 matches, his only blemish being his recent French Open semifinal loss to Roger Federer.
But despite losing his fifth final of 2011 to Djokovic, Nadal, the 2008 and 2010 Wimbledon champion, believes that he can hit back.
"My experience says this level is not forever," said 10-time Grand Slam winner Nadal.
"Probably the level of Novak of today is not forever. I'm going to be here fighting all the time, waiting for my moment to beat him another time."
Nadal said he will not torture himself over his loss on Sunday in what was his 13th Grand Slam final.
After already deciding to skip the Davis Cup quarter-final against the United States in Texas next weekend, he will work on what he believes are the minor adjustments he needs.
"The game is easy, so to think about a lot of things will be a mistake. Don't think about playing well, how you are not playing well," said Nadal, who still holds a 16-12 winning record over the Serb.
"It's true we can analyse that my game is not bothering him. We have to find how I can bother him another time. I did in the past. He's in the best moment of his career. That's true.
"I am in one of the best moments of my career. Still it wasn't enough to beat him. I have to play longer. I have to play more aggressive. I have to have less mistakes."
Nadal refuses to be too downcast about losing both his Wimbledon title and the number one spot, which he and Federer have monopolised since 2004.
He points to winning a sixth French Open, which took him level with Bjorn Borg's record, as proof that there is not a lot wrong with his game.
"Three weeks ago I was winning in Roland Garros; today I was playing the final here and I lost," he said.
"We started with 128 players. One has to win but he's going to lose in the future."
Nadal was also adamant that Sunday's loss was not the worst of his career, claiming his double dose of Australian Open misery was tougher to take.
The Spaniard was in tears in January after his injury-ruined quarter-final against compatriot David Ferrer.
A year earlier, knee tendinitis forced him to retire from his quarter-final with Andy Murray.
"The toughest moment was in Australia and I finished the match and I am injured....in 2010 I have to go out of Australia with an injury. That is the toughest moment. That's the game: sometimes you win; sometimes you lose," he said.

Follow Emirates 24|7 on Google News.