Injured Clijsters withdraws from Indian Wells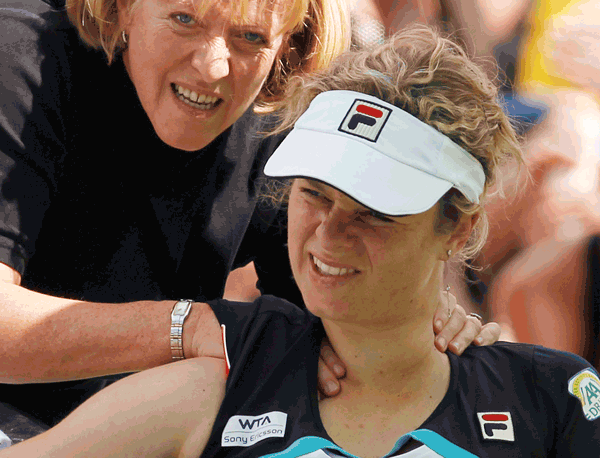 Kim Clijsters pulled out of the Indian Wells WTA tournament on Tuesday because of a lingering shoulder problem, conceding her fourth-round match to Frenchwoman Marion Bartoli 3-6 3-1.
Although the Belgian world number two had won the opening set on the hardcourt surface, she summoned her trainer for treatment on her shoulder when trailing 1-2 in the second and withdrew one game later.
Bartoli, the 15th seed, advances to the last eight at Indian Wells where she will face 19th-seeded Ana Ivanovic, a 6-4 6-2 winner against fellow Serb Jelena Jankovic earlier on Tuesday.
"It's not that I'm really, really worried about it, but it is something that I have to pay attention to and that I don't want to risk," Clijsters, a double champion at Indian Wells, told reporters.
"Can I take painkillers for it and not feel it during a match? Yes, I think so but I don't want to risk tearing it. I don't want to be ... taking medication to cover the pain, not knowing if it's getting worse during my match."
Clijsters has been taking pain killers to cope with a pinched right shoulder since before she won her fourth Grand Slam title at the Australian Open in January.
After losing to Czech Petra Kvitova in last month's Paris Open final, the Belgian had hoped to regain full fitness while taking a break of almost four weeks from competition.
"I just wanted to see how it would go here," she said. "I had treatment with my trainer, but I wasn't playing. I had my usual mobilisations, some acupuncture, a lot of loosening up.
"In Paris, I had a really bad neck injury, which was probably a little bit related with the shoulder. Obviously something is not the way it should be in this area so I'm gonna have to figure out, have some tests and then try to solve it."
Clijsters said her osteopath was not with her at Indian Wells but would join here in Miami for the WTA tournament starting next week.
"After Miami we have Fed Cup, which I'm taking very seriously," the 27-year-old added. "And also obviously the clay court season, which is a very tough part of the season for the shoulders. I'm gonna have to make sure that I'm fully healed until I start playing on that surface."
Follow Emirates 24|7 on Google News.