Venus gearing up early for US Open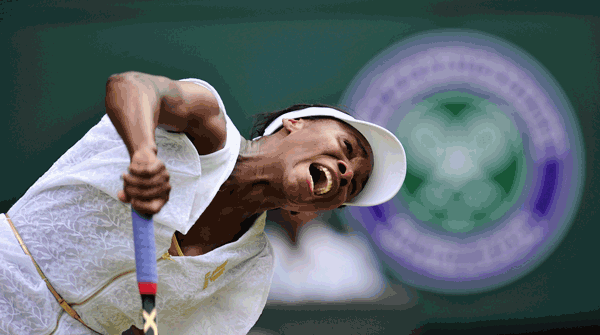 Seven-time Grand Slam winner Venus Williams was back on court on Tuesday, starting her preparations for the US Open barely a week after she and sister Serena were ousted in the fourth round at Wimbledon.
Williams, showing no sign of the hip injury that sidelined her from the Australian Open until just before Wimbledon, began the World TeamTennis (WTT) season for the Washington Kastles against reigning champion Kansas City.
"I feel good about my game. Me being here means I'm healthy enough to play," Williams said.
"I have just been relaxing, taking it easy. It's time to gear up and get myself started again. This is how I've started my summers for several years and I'm excited to be out here again."
The 31-year-old American, a five-time Wimbledon champion who also won the 2000 and 2001 US Opens, has not won a Grand Slam title since 2008 at Wimbledon and has slid to 34th in the world rankings.
But Venus Williams vows she is far from finished as a force in women's tennis.
"It has been a privilege to set a level at the top of the game," she said. "On and off the court, I'm trying to achieve things I love. For me, it has always been important to have a life off the court.
"While I'm playing well, I'll be trying to dominate on the court. When it's over I will try to dominate somewhere else."
Williams, the 2000 Sydney Olympic singles champion and the 2000 and 2008 Olympic women's doubles champion with Serena, is excited for the chance to go for three Olympic titles next year in London when mixed doubles is introduced.
"I'm looking forward to the Olympics," she said. "When I enter three events, I'm going to try to win three events."
Just exactly which American she will partner with, however, she is not ready to say.
"I have been known not to commit to relationships," Venus Williams said. "I will be waiting until the last minute to see where the grass is greenest."
Williams, whose design company is working on a remodel project at nearby Howard University, says she enjoys the US capital but is not planning on playing in the ê220,000 WTA Citi Open that debuts in Washington in three weeks.
"I usually play (only) a couple of tournaments before the US Open," she said. "I'm very happy there is a women's event here. It would be great to play it but right now it's not on my schedule."
Williams said she wanted more matches this summer after her Wimbledon loss to better prepare for the US Open, which starts next month.
For now, she is content for the more relaxed schedule of the WTT compared to the tournament level.
"Team Tennis is great. Everyone has to contribute an equal part. That's what makes it unique," she said.
Williams enjoyed a pre-match clinic with young players from inner-city neighbourhoods, events similar to those she took part in as a child.
"It's more the circle keeps going," she said. "It's great to see young people on the court."
Follow Emirates 24|7 on Google News.