Sudan vote suspension another blow to chaotic polls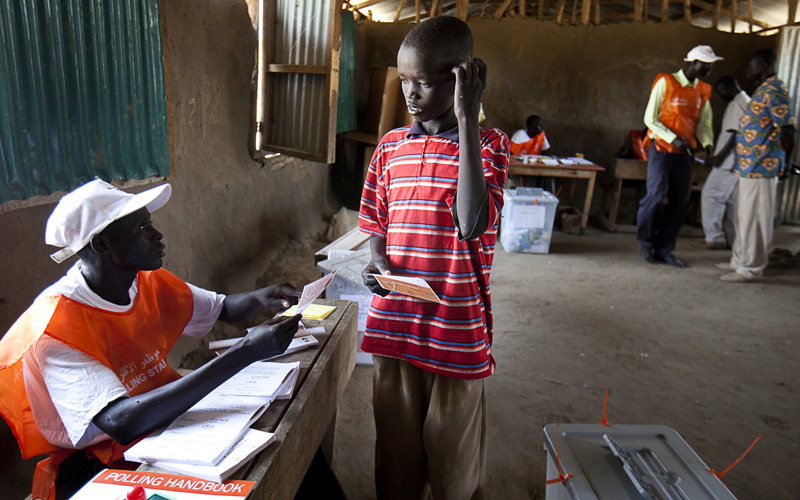 Sudan's electoral commission announced on Tuesday that it was suspending voting in areas struggling with logistical problems, in the first competitive polls in two decades already marred by an opposition boycott.
"We decided to freeze the election in some constituencies because of technical problems" for two months, commission deputy secretary general Abdullah Ahmed Abdullah told reporters.
Voting kicked off on Sunday to a chaotic start, prompting the National Election Commission to prolong the voting process by two-days to end on Thursday.
Abdallah did not elaborate on the problems, but delays in distributing ballot and the opening of polling stations had already prompted the NEC to announce a two-day extension to the scheduled three days of voting.
That announcement followed appeals for a prolongation of polling from both the southern former rebel Sudan People's Liberation Movement and former US president Jimmy Carter, whose Carter Center is monitoring the election.
Carter, who is leading a team of 70 observers across Sudan, said on Tuesday the two-day extension was probably enough to allow everyone to vote.
"There are some problems but they are trying to be corrected and I think it's a very good decision by the NEC to extend the voting for two more days," Carter told AFP in an interview.
"I think these two extra days will probably be enough," he added."
The former president said there was "no evidence of fraud" in the process.
NEC also said voter turnout was 40-67 percent, based on preliminary estimates in seven of 25 states.
Lam Akol, the only challenger to southern leader Salva Kiir for the post of head of the autonomous south, accused the southern army of opening fire at a polling station in Unity State, killing two voters and wounding a candidate. The report was not confirmed by independent sources.
Sudanese had been trickling into polling stations on the third day of voting.
"There are few people this morning. There is no rush because people have two more days to vote," said Fawzia Ahmed Mirghani, one of the few to turn up to vote on Tuesday at Abdelbaset's polling station.
In the complicated ballot, which has baffled many voters, voters are asked to choose a president, as well as local and legislative representatives.
In Shirikat, near the southern capital of Juba, the local polling station opened for just one hour on Monday before closing again. By noon on Tuesday it had still not reopened, an AFP reporter said.
During what has now become a five-day vote, more than 10,000 polling stations are scheduled to open from 8:00 am (O500 GMT) to 6:00 pm daily.
The US State Department said snags were to be expected in the landmark election.
"Obviously, it's going to be difficult for Sudan to carry out (the elections). They haven't done this in a while. So we will not be surprised if there are irregularities," State Department spokesman Philip Crowley said in Washington.
"There's some evidence that there have been some difficulties in the first two days of voting. But it is important that the election reflect the will of the Sudanese people," Crowley said.
Many Sudanese fear the worst and believe the announcement of the results of the ballot could spark clashes in Sudan, whose recent history has been plagued by civil wars.
"If there are problems in the beginning, there will be problems at the end," said Salwa al-Amir, 56, a retired air hostess.
Even before polling started, the credibility of the vote had been marred by a pullout of the opposition, who accused President Omar al-Beshir's National Congress Party of rigging the election.
With the withdrawal of key presidential challengers, Yasser Arman of the former rebel Sudan People's Liberation Movement and former Prime Minister Sadiq al-Mahdi, Beshir, who is wanted by the International Criminal Court for war crimes in war-torn Darfur, looks to secure a comfortable win.
By contrast, legislative and local elections remain fiercely competitive in many parts of the country.
Follow Emirates 24|7 on Google News.