Ponting wants more exposure for Australia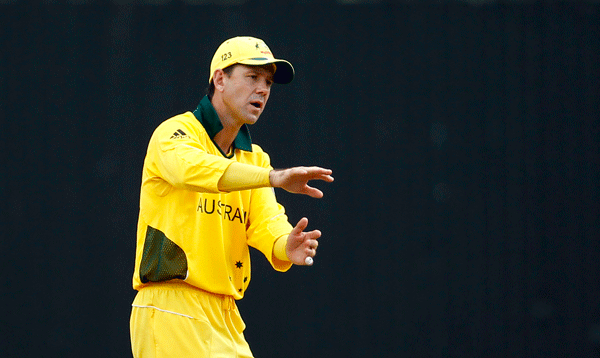 Skipper Ricky Ponting believes his team needs more exposure to the cut and thrust of the World Cup following lengthy interludes and a rained-off match against Sri Lanka.
The defending champions waited eight days to play Sri Lanka in their third match of the tournament and must kick their heels for another seven days before tackling Kenya in Bangalore next Sunday.
"It's not ideal, but we have known there was a chance of that happening right the way through, before the tournament even started," said Ponting after Saturday's Group A match against Sri Lanka ended in no result.
Sri Lanka, who batted after winning the toss, were 146-3 after 32.5 overs before heavy rain forced the match to be called off at the R. Premadasa stadium.
Australia had beaten Zimbabwe by 91 runs in their opening match before winning their second against New Zealand by seven wickets, games in which their middle order had little exposure.
"If you look a bit deeper than that, some of our middle-order players haven't got much exposure. We will have to think about what's going to be the right thing for us to do as far as our team composition is concerned.
"I don't want to be tinkering with things too much and changing things around too much, but after a game like on Saturday where you are 30 overs in and it's washed out, it just makes us think that little bit more about it."
Ponting said the loss of one point from Saturday's washout would not make a difference to his team.
"Hopefully we can continue to win a few more games and hopefully not getting two points out here won't affect us. I am not sure how it's going to work for Sri Lanka, but I am not that concerned about that either.
"I am just concerned with how we're doing and we have got another seven or eight-day break now before our next couple of games, so we have got to make sure we prepare well and get the points we need out of our next two fixtures."
Ponting believed it would have been a difficult chase for his team, with Sri Lanka playing all their three spinners in Saturday's match.
"I think it might have been a pretty good game of cricket. They had Sangakkara who played particularly well, and with 140 on the board, we felt like we needed to make another breakthrough before the ball change.
"I think we were only one breakthrough away, but saying that they had batted pretty well and it would have been a difficult run chase considering the way the wicket was playing and them playing with three spinners," said Ponting.
Australia now have five points after three matches. Pakistan lead Group A with six points after three matches.
Follow Emirates 24|7 on Google News.