Tanivula: Such basic errors will halt our title defence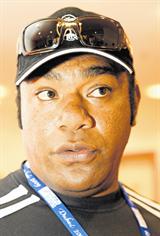 Defending champions Fiji must eradicate the basic errors that have plagued their Pool B matches if they are to progress past the quarter-finals of the IRB Rugby World Cup Sevens today.

That's the view of coach Iliesa Tanivula, who has inherited a team disrupted by off-field drama in the build up to the Dubai tournament.

Popular coach Waisele Serevi was controversially ousted in January following a disagreement with management, a decision that led to mass protests in the overachieving Polynesian country.

Fiji, winners of two of the four Sevens World Cups, laboured to victory against Georgia and USA in their opening two games, prompting Tanivula to criticise his troops' complacency.

"We'll take the wins, but it's been disappointing," he said. "We're committing basic errors, especially in handling, and making mistakes so it's something I've spoken to the guys about. They're hurting us.

"It's about personal preparation and the boys must look at that before we talk about it as a team."

The pressure is on Fiji to produce in the Melrose Cup again. The 1997 and 2005 winners carry the hopes of a rugby-mad nation into the last eight and Tanivula admits it's an unwanted distraction as they look to retain the title.

"There's huge expectation from home," he said. "There's been a lot of support, but there's also been a lot of criticism, but that's rugby and we've just got to try our best here."
Follow Emirates 24|7 on Google News.