15% of Ferry Dubai Manufacturing completed: RTA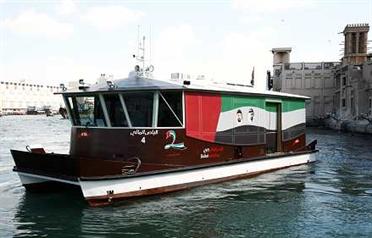 Marine Agency at Roads & Transport Authority (RTA) revealed that manufacturing of Ferry Dubai Project (Phase I), the manufacturing of which started last July, clocked a completion of 15%.
The CEO of RTA Marine Agency Mohammed Obaid Al Mulla said: "The initial phase of Ferry Dubai Project entails manufacturing of 10 boats, with a loading capacity of 100 passengers per boat.
These boats will be deployed on Dubai Creek to provide mass transit services in accordance with the best practices known in the field of water transport worldwide; particularly noting that water transport is shaping up into a key ingredient of public transport in the city of Dubai. It provides a link with urban areas in the neighborhood of the waterfronts of Dubai Creek, Palm Islands (Palm Deira, Palm Jumeirah and Palm Jebel Ali), Lagoons and water canals at the highest international standards.
He stated that manufacturing of Ferry Dubai boats at the factory of the Dutch Damen Co. in China was progressing according to the approved timetable with completion rate running slightly ahead of schedule. "Ferry Dubai is one of the mega projects undertaken by Marine Agency and the third one envisaged in the Strategic Plan of Marine Agency. Boats will shuttle between four stations; namely Gold Souk Station, Ghubaiba Station, City Center Station, and Union Square Station" noted Al Mulla.
He added: "The overall cost of Ferry Dubai Project (Phase I) exceeds Dh300 million, including boats as well as the infrastructure. Once commissioned hopefully in 2010, the project is set to slash the traffic congestion in Dubai through offering marine transit modes integrated with various mass transit modes; contributing to realization of the vision of the RTA to provide'safe and smooth transport for all'.
Al Mulla elaborated on the technical specifications of Ferry Dubai boats stating that each boat was made of a dual base aluminum hull, measuring 32 meters in length, 7.6 meters in width and 8.37 meters in height. "Maximum speed is 24 knots and the interior will be fitted with 84 seats in the economy class and 14 seats in the Business Class in addition to 2 seats for people with special needs. Each boat is fitted with dual engines (Caterpillar C 18 ACERT) of 1400 hp per unit. The boat will also have a kiosk for selling gift items and snacks, and three toilets (for men, women and special needs).
"Ferry Dubai Project is the gateway to marine mass transit industry spearheading the drive to introduce the best applicable practices worldwide. Dubai is heading towards giant marine projects; which require the RTA to prepare, plan, operate and activate marine transit modes with various capabilities and geographical coverage, to cope with the size & number of users as well as the population density in each area. It also requires planning headway of marine transit modes to link up with all other mass transit modes such as metro and buses.
Follow Emirates 24|7 on Google News.