39 Filipinos return from Algeria after siege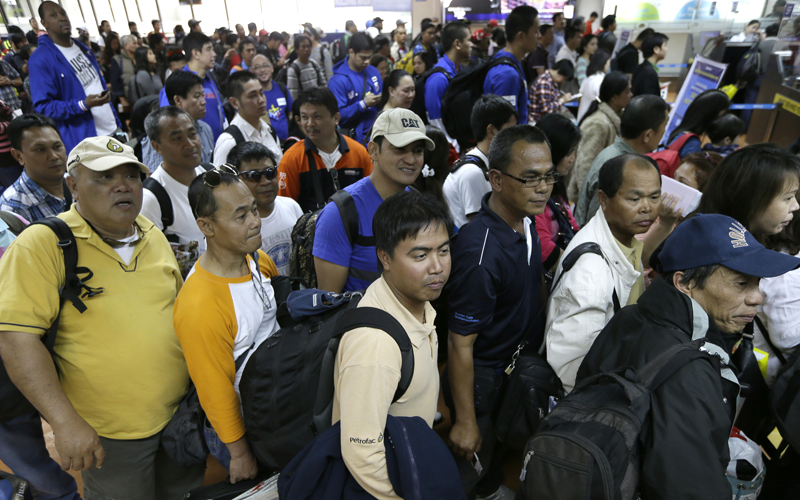 Dozens of Filipinos arrived home Sunday after being sent home by their employer in Algeria due to security fears following an Islamic militant attack at a remote gas plant.
Many of the 39 returnees said they worked for a British energy facility hundreds of kilometres from the In Amenas gas plant that was attacked by the militants last week.
"We were far from the gas plant that was attacked," said Cerilo Tundag, 52, as the group arrived in Manila airport aboard a commercial flight from Dubai.
"But we were sent home for security reasons."
Tundag said 34 of his colleagues were aboard the commercial plane that returned to Manila on Sunday.
One of the others, Alex Aguja, said their employer had told them they would be called back as soon as the situation normalised.
"We were aware of what happened, but we were around 800 kilometres (497 miles) away," he said. "We were worried, but none of us were directly affected."
Philippine foreign affairs spokesman Raul Hernandez said in a statement early Sunday that 52 Filipinos caught up in the crisis had been accounted for, and that all 39 returning home on Sunday were "survivors" of the siege.
After the 39 Filipinos arrived in Manila and reported they were working far from the hostage site, Hernandez said he had made his initial comments based on reports from Philippine embassies involved in the repatriations.
"We will ask for more clarification on this. Will keep you posted," Hernandez told AFP in a text message.
Hernandez had earlier said four other Filipinos caught up in the siege were staying at the Mercure Hotel in Algiers, while four others were recuperating at a clinic in the Algerian capital.
The Algerian interior ministry has said 23 foreigners and Algerians were killed after Al-Qaeda-linked gunmen began their attack on the In Amenas gas plant deep in the Sahara desert on Wednesday.
The siege ended on Saturday after Algerian special forces stormed the facility.
Around nine million Filipinos work overseas, or roughly 10 percent of the population, many as labourers or maids in areas where they are constantly exposed to danger.
Follow Emirates 24|7 on Google News.