Man of Action, Man of Vision and Man of Peace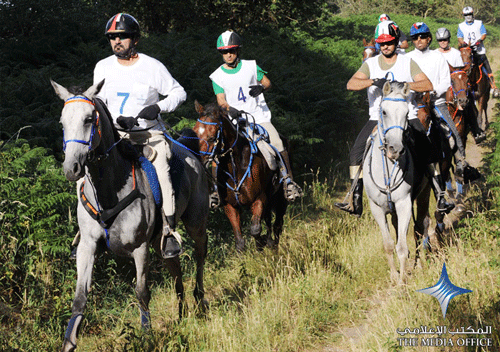 The past year added yet another scintillating facet to the persona of His Highness Sheikh Mohammed bin Rashid Al Maktoum, Vice-President and Prime Minister of the UAE and Ruler of Dubai - that of a 'Man of Peace'!
Right from the very beginning, Sheikh Mohammed has stressed physical fitness for himself, his family and the people of Dubai and the UAE. He has been actively involved in sports and promotion of sporting activities.
Man of Action
Not only has he achieved worldwide acclaim as a patron and participant of sports at the international level - winning honours in world championships, it is under his stewardship that Dubai has become part of the international circuit in global sports such as Horse Racing, Golf and Tennis through Dubai World Cup, Desert Classic and Dubai Tennis Open etc.
For this participation and contribution to sports and his active and dynamic action-taking attributes - His Highness has the accolade of being a 'Man of Action'.
Man of Vision
I have lived in the UAE for more than two decades and I have always admired the exceptional leadership qualities of His Highness - as do all my co-residents. He has stood before the people and led them through an experience that has made the name of Dubai and the United Arab Emirates synonymous with rapid progress and world-defying achievement. What others have thought as impossible, the Leader of Dubai and its people have shown can be done.
For the people of Dubai, the UAE, the region and across the world - Sheikh Mohammed is an 'Exceptional Leader'.
Not only has he shown that impossible is not a word in his dictionary, but that even the most difficult of tasks can be done with aplomb and seeming ease. For example, Dubai, under His Highness' leadership, not only created the tallest building in the world - it created a building that is, by far, the tallest.
The second highest building Tapei 101 at 509.2 metres was higher by 57.2 metres than its predecessor Petronas Towers. But Dubai was not content in being higher by another 50 metres or so - it is higher by a phenomenal 319 metres than the second highest building in the world.
Sheikh Mohammed has not only expanded Dubai both horizontally and vertically - he has created a global lifestyle destination that offers a quality of life unmatched by any other city in the world - a lifestyle that has attracted 200 nationalities living and working in peace, safety and harmony.
It would perhaps take several books to describe the achievements of Dubai and the UAE under the leadership of His Highness. He has been able to see a Dubai that others would not have dreamed was possible.
For his foresight and ability to transform dreams into reality - His Highness is acknowledged as a 'Man of Vision'.
Man of Peace
In 2011, the year gone by, His Highness persona added a brand new facet - that of a 'Man of Peace'.
The creation of the 'Mohammed bin Rashid World Peace Award' is the latest landmark from His Highness.
Through the Peace Award, His Highness has energised individuals, entities and institutions to foster peace in our troubled world.
Through it, His Highness will honour entities with outstanding contributions to international peace, promoting civilised interaction among nations, preserving international peace, encouraging communication among different religions, and bringing forth the true image of Islam as a religion of forgiveness and peace.
It was on January 4th, 2006, that His Highness became the Ruler of Dubai. And now, on this anniversary, we remember Sheikh Mohammed's achievement and contributions and thank him for creating a haven that we, the people of Dubai and the UAE, have the fortune to enjoy and benefit from.
Thank you and God bless Your Highness.
Follow Emirates 24|7 on Google News.