Al Jaber heads UAE team to GCC meet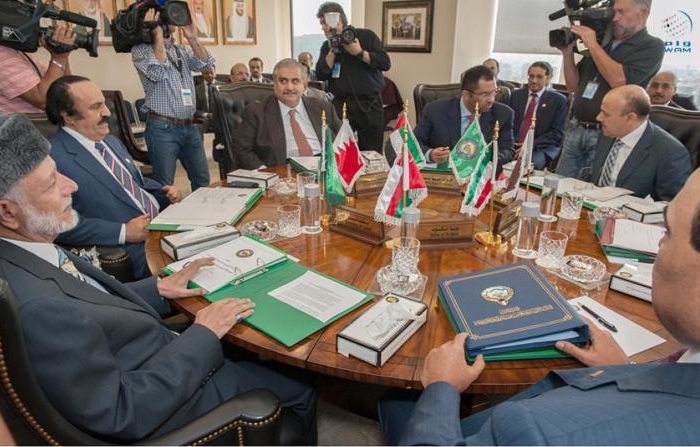 Dr. Sultan bin Ahmed Sultan Al Jaber, Minister of State, has chaired a UAE delegation taking part in the coordination meeting of the GCC Ministerial Council, which was held at the headquarters of the Council's mission to the United Nations in New York on the sidelines of the UN's 70th General Assembly.

The council meeting was held under the chairmanship of Qatari Foreign Minister, Dr. Khalid bin Mohammed Al Attiyah, with the participation of foreign ministers of member states and GCC Secretary-General, Dr. Abdulatif bin Rashid Al Zayani.

During the meeting, officials reviewed the GCC's common positions related to latest developments and issues of common interest in the region.

The GCC countries expressed condolence to the Custodian of the Two Holy Mosques King Salman bin Abdul-Aziz Al Saud and the families of the victims of the tragic stampede, which occurred in Mina.

In a statement issued after a meeting, the Ministerial Council praised the great efforts made by the Kingdom of Saudi Arabia in serving pilgrims and the kingdom's decision to establish a higher committee to investigate the causes of that tragic incident.

On Syrian refugees, the Ministerial Council noted that the countries of the GCC received since the outbreak of the crisis in Syria about 2.8 million of the Syrian brothers and were careful not to treat them as refugees by finalizing their legal conditions to enable them to move freely and streamline residency procedures for those wishing to stay in the GCC countries. The GCC countries have also worked on ensuring those Syrian people enjoy free health services, access to the labour market and free education in public schools. They also secured seats for them at the universities and allowed the Syrian workers to bring in their families from Syria and the Refugees camps and renewed expired contracts.

The GCC Foreign Ministers also pointed out GCC countries' continuous provision of humanitarian aid in material and in kind to the Syrian refugees and internally displaced and hosting of international conferences to raise funds for the Syrian people. They called on the international community to assume full responsibility in providing all needed aid for the Syrian refugees wherever they are and for the displaced people inside Syria.

The meeting was attended by Ahmed Al Jarmen, Assistant Foreign Minister for Political Affairs and a number Foreign Ministry officials.
Follow Emirates 24|7 on Google News.