Baby born amid Australia wreckage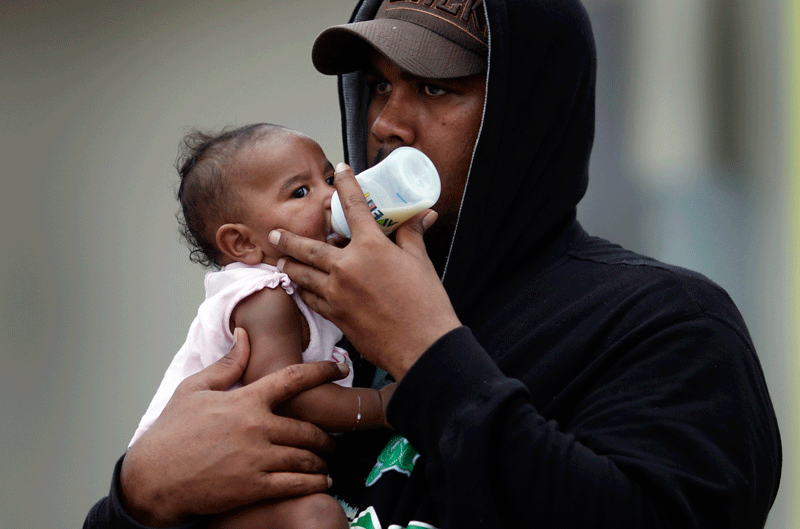 Australians woke to scenes of cyclone devastation along the northeast tourist coast Thursday but evacuees at one shelter were celebrating something joyous - the birth of a baby girl.
With a holidaying British midwife at her side, Cairns woman Akiko Pruss delivered the infant in the darkness of the city's evacuation centre - a local college - as Severe Tropical Cyclone Yasi raged outside.
Healthy and right on schedule, the girl arrived at 6.09 am after a three-hour labour, said midwife Carol Weeks who was holidaying in Cairns for her 25th wedding anniversary and was evacuated along with tens of thousands of locals.
"Someone said: 'Is there someone medical in the room' and I said: 'I'm a midwife' and they said: 'Oh good, there is a baby due tomorrow'," Weeks told the Nine commercial network.
"The baby is doing great. She's breastfeeding and mum's wonderful," she added. "Everything went absolutely perfect."
Pruss's mother had travelled from Japan and was with her daughter during the birth, in the college's first aid room, said local councillor Linda Cooper.
She was yet to be named but Cooper said "Yasi" had certainly been struck from the list. "Akiko doesn't like that name at all," she said.
Prime Minister Julia Gillard said "many Australians would have been gladdened at heart" by the news, a sentiment echoed by Queensland Premier Anna Bligh.
"In the midst of all of this devastation, new life in some very touching circumstances," said Bligh.
"I'm sure it will bring a lot of smiles to faces in that centre today after such a difficult and distressing night."
Another two babies were born at Innisfail, also in the cyclone's path, overnight as the savage storm lashed the coast.
"I understand the mum in the evacuation centre has ruled out calling her baby Yasi, and I suspect the other two mums will do the same," said Bligh.
Follow Emirates 24|7 on Google News.