Bomb explodes outside MI5 headquarters in N Ireland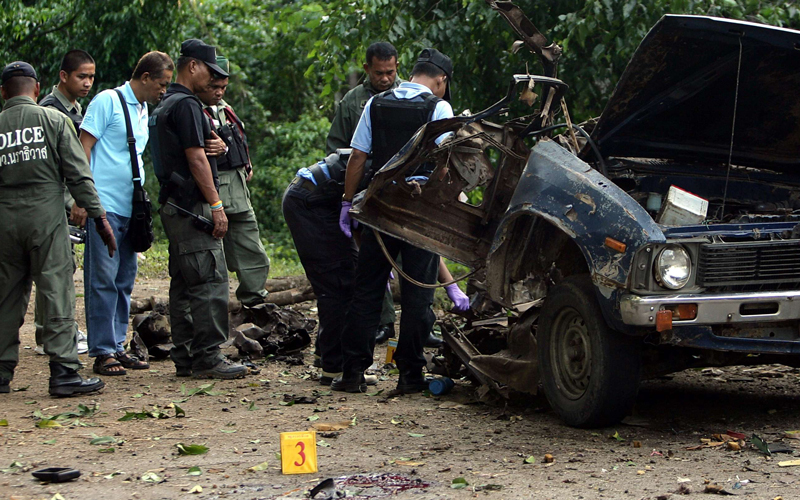 A bomb in a hijacked taxi exploded on Monday behind a British army barracks in County Down, a police spokeswoman said, minutes after the transfer of police and justice powers to Belfast from London was completed.
"The taxi driver got out (of the car) and shouted 'It's a bomb, it's a bomb!' and we were evacuating the area when it exploded," the spokeswoman said.
Police said one elderly man was injured in the attack at the barracks which houses the headquarters of Britain's domestic spy agency MI5 in the province. Intelligence issues handled by MI5 will remain under British control despite Monday's transfer.
The blast at 12:24 a.m. (2324 GMT) coincided with the latest stage in the Northern Ireland peace process - the handing over of powers to Belfast from London and a vote in the province's assembly on Monday on a new justice minister.
A leading assembly member and member of Northern Ireland's Policing Board, which oversees the work of the police, said the shifting of policing powers to local politicians for the first time in almost 40 years would prompt similar attacks.
"We are going to have to expect more of this over the next period of time, the devolution of policing and justice was never going to be just straightforward and easy," Basil McCrea of the Ulster Unionist party told Reuters.
Northern Ireland Secretary of State Shaun Woodward condemned the car bomb attack.
"The democratic transition (of justice powers) stands in stark contrast to the activity of a criminal few who will not accept the will of the majority of people of Northern Ireland. They have no support anywhere," Woodward said in a statement.
There have been a series of attacks by dissident republicans in recent months as politicians edged towards an agreement on policing and justice, the last piece of the devolution process begun by a 1998 peace deal that ended three decades of violence.
Analysts have also predicted unrest will continue from the dissident group who do not believe in a political process to further their campaign for a united Ireland.
Police have assessed the risk of attack as severe and security forces are the prime target.
Follow Emirates 24|7 on Google News.