Branded media gain popularity in region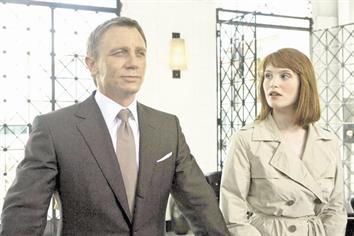 Product placement and branded media are gaining popularity with industry professionals as the advertising world is witnessing drastic cuts in their budgets all over the world

In fact, considering the potential of this fast-evolving media segment, Publicis Groupe Media has launched a new division solely dedicated to branded entertainment called Core.

In an official communiqué, the agency announced the division's aim to deliver "true branded entertainment that builds a deeper emotional relationship with consumers, and ensures clients' products and services are seamlessly embedded within media channels."

The company has identified Wael Hattar to lead Core as he has extensive experience on areas that deal with branded entertainment. Backing him with their confidence, Mike Readman from PGM Mena complemented his appointment saying that "He will give a fresh perspective on branded content".

Products companies have in the past been involved in the business of product placement, but under the current circumstances, the option is gaining popularity and the track record shows impressive growth in this sector.

According to a newly-released study by PQ Media, based in the US, this booming marketing effort is projected to grow by more than 30 per cent to $4.38 billion (Dh16bn) this year alone.

Global product placement growth is attributed to lenient European government regulations, booming product placement markets in Asia, and conversion of non-paid to paid placement models in America, Mexico and Brazil. Sharing the vital information with the international media, Patrick Quinn, President and CEO of PQ Media said: "As a new media order has emerged in recent years, our research indicates that we are entering an era of alternative advertising and marketing strategies. Brand marketers are seeking to better engage consumers with emotional connections and media companies are searching for new revenue streams as traditional advertising methods suffer from negative perceptions. As a result, product placement has emerged from a novel marketing tactic just a few years ago to a key marketing strategy worldwide."

Highlighting the effectiveness of product placement, Suresh Dinakaran, President and CEO of ISD Group said: "The total value of a product's appearance in a scene will always depend on plot integration, time onscreen, and a number of other highly subjective circumstances, there may never be a true valuation system.

"For example, is a can of Coca-Cola sitting visibly on a desk for 10 minutes in a blockbuster as valuable as a pack of M&Ms used memorably for 10 seconds in an independent film? Marketers have been salivating and using in film branding at every possible touchpoint – celluloid blockbusters, video games, reality shows (American Idol) and radio talk shows.

"Most of the in-film product placement you see in the region [predominantly on television] are extensions of what has been already executed in franchised shows emerging from Western markets. Hollywood has its omnipresent share of product placements with studios having separate divisions set up to cut deals with marketers, but given the region's lack of original content creation – be it for television or for celluloid or any other entertainment media platform for that matter – and the absence of large scale unified audiences, the opportunities that brands have, to subliminally plant messages in neutral settings, remain very limited. So I reckon the jury is still out on this one."

Pharmaceuticals are the latest in the line of products that are being regularly seen on the small screen and on the large cinema canvas. "The need arises from the fact that advertising of pharmaceutical products requires many approvals and checks that can be daunting," explains Dr Tariq Mehmood, Head of Marketing at Al Zahra Group of hospitals.

A special report revealed 462 mentions of prescription drugs on TV last year, more than double the number from just two years earlier. The governing authority FDA, which monitors advertising for the pharmaceutical industry does not have an explicit position on product placement. In normal advertising, drug makers are prohibited from advertising the benefits of their drugs without mentioning possible risks.

Revealing the extent of exposure that a viewer is subjected to, the USA Today exposed in a special report that 16 episode of ABC's Boston Legal, had blatant promotion of medical products to the extent that the script revolved around the ailments and prescribed medicines.

One pharma company admitting to advertising via product placement is Organon Pharmaceuticals USA, part of Akzo Nobel who promoted their products in the show Scrubs.

A logo for their product apparently appeared 11 times in just one episode, mostly on posters placed in the background. "The brand's maker, Organon Pharmaceuticals USA of Roseland, told trade magazine Brandweek that it had done placement deals with several television shows, including CBS' King of Queens and ABC's Grey's Anatomy.

On the big screen, the last Bond film Quantum of Solace seem to have broken all records when it comes to branding. In number of products and the amount paid for their exposure has been the highest so far.

An amazing £50 million (Dh262.51m), was collected as fees for product placement of various products, surpassing the previous Bond production placement record, which amounted to £44m in Die Another Day.

The numero uno secret agent in the secret service of Her Highness is seen in a Ford, along with his all time favourite Aston Martin, of course for a fee. For quenching his thirst, the Bond seeks a zero calorie Cola.

The soft drink company made an agreement for $8,109,868 to let bond drink zero zero seven Cola, which became available in the stores in the same week the movie premiered.

The movie producers also let bond promote Sony Ericsson phones, Sony High Definition, Smirnoff, Heineken, Ocean Sky, Virgin Atlantic and Omega watches.

The phenomenon may have reached its peak, but it is as old as 1927 when Hershey dove promoted their chocolate bar in Wings. Tobacco companies seems to have made deals with Hollywood stars to smoke their brands in movies. But that died in the present times as anti-tobacco campaigns picked up all over the world.

According to critics, the record holder for biggest number of product placements in a movie, is The Island with 35 different brands.

Here, in the region, product placement has not been so well exploited in quality and quantity.

The PGM's Core is expecting to fill that void of innovative media. "In an increasingly cluttered and fragmented media marketplace," said Hattar. "The consumer is now firmly in control, and communications and brand contacts need to do more than just deliver traditional campaign efficiency."


Blatant product placements

In CSI: NY, the show's characters gather around videoconferencing screens to share information about a shooting. The unlikely supporting player in that episode was Cisco Systems, which wanted to show off its TelePresence videoconferencing system.

General Motors had four of their models in starring roles in the Transformers. Each model "transforms" into a battle-raging robot that fights the bad guys (not GM models) in order to save mankind from the destruction of their planet.
Follow Emirates 24|7 on Google News.