3 Tata cars to star in next James Bond movie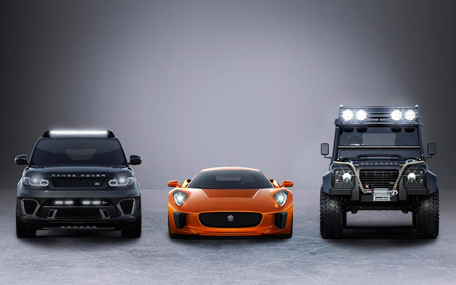 Jaguar's 'Good to be Bad' villain ads were famously banned last year for encouraging irresponsible driving, but that's not stopping the Tata Motors-owned Jaguar-Land Rover (JLR) from leveraging their reputation as the best car for the baddies.

Three JLR cars are set to be featured in the new James Bond movie Spectre, with the company saying that its prototype supercar, the Jaguar C-X75, will be part of a spectacular car chase sequence through Rome alongside the 007's own set of wheels, the Aston Martin DB10.

The C-X75 is a hybrid-electric, two-seat, concept car from Jaguar which debuted at the 2010 Paris Motor Show. The concept produces 778 horsepower through four electric motors, each of which drives one of the four wheels.

While a maximum of 250 cars were planned to be built in partnership with Formula One team Williams F1, the carmaker was forced to shelve production plans in December 2012 due to the global economic crisis. In 2013, Jaguar announced its decision to continue working on five prototypes, of which three were to be sold at auction, while one is go into a future Jaguar museum, and the other will be kept by Jaguar for running demonstrations.

The C-X75 vehicles have been built in collaboration with Williams Advanced Engineering facility in Oxfordshire, England, the carmaker said, and report suggests that Jaguar finally built a total of 10 of these cars.

Nevertheless, sharing screen space with C-X75 will be its peers Range Rover Sport SVRs and Defender Big Foots, all three of which were provided by the JLR Special Operations division for the 24th James Bond adventure, Spectre.

"This is an exciting partnership for Jaguar Land Rover and an opportunity to demonstrate the fantastic capabilities of the Special Operations team," said John Edwards, Managing Director of JLR Special Operations.

It won't be the first time for JLR vehicles to star in a James Bond movie, with the most recent being in 2012, when the rugged Defender 110 Double Cab Pick Up was driven by field agent Eve Moneypenny in the opening sequence to Skyfall.

According to the carmaker, scenes including the heavily modified Land Rover Defenders & Range Rover Sport SVR have already been filmed in Austria.

JLR pegs the Range Rover Sport SVR as the fastest and the most powerful Land Rover ever. On the other hand, the highly capable Big Foots were constructed by the Special Operations division with huge 37-inch diameter off-road tyres to tackle the extreme terrain. They also feature bespoke suspension and enhanced body protection.

Spectre will be the 24th James Bond film produced by Eon Productions. It will be the second film in the series directed by Sam Mendes and will feature Daniel Craig in his fourth performance as James Bond and Christoph Waltz as Franz Oberhauser. Spectre is scheduled to be released in late-October/early November 2015.



Follow Emirates 24|7 on Google News.