6,000 jobs up for grabs at Etihad Airways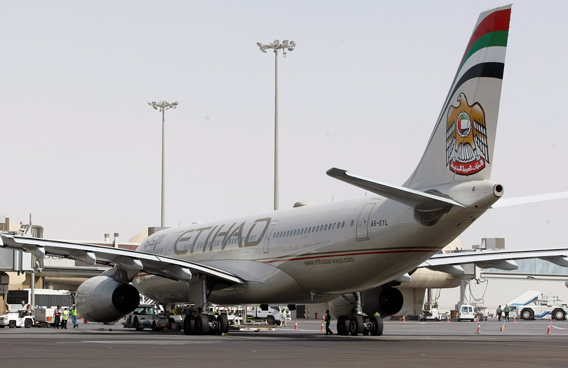 Abu Dhabi-based Etihad Airways has announced plans to boost the number of local nationals employed in the airline substantially by offering them more than 6,000 jobs over the next five years.

One of Etihad Airways' major collaborations is its participation in the Absher initiative to support Emiratisation and create new jobs for skilled Emiratis in the UAE labour market.

As part of the Absher initiative, Etihad Airways signed an MoU with the Ministry of Presidential Affairs in June 2012 to recruit 1,500 Emirati citizens to its global team over the next five years. More than 900 UAE nationals have been recruited since then as part of the initiative.

In 2011, Etihad Airways signed an MoU with the Abu Dhabi Tawteen Council (ADTC) and since then has worked together to enhance the airline's recruitment strategy for UAE nationals.

The Abu Dhabi-based airline also signed an MoU with the Ministry of Higher Education and Scientific Research in 2013 with the aim of sponsoring and hiring UAE nationals studying abroad.

To attract even more talented young Emiratis, Etihad Airways recently took part in a recruitment event hosted by the UAE embassy in Washington DC with the aim of screening and selecting a new batch of students who will eventually join the airline's ranks.

The airline also collaborates with Abu Dhabi University to offer a bachelor's degree in aviation science, the first of its kind in the airline industry for applicants interested in Etihad Airways' cadet pilot program.

The degree can be completed in about five years, and after graduation, the cadets are required to complete 750 hours of ground training and 205 hours on a small aircraft after which they receive an Air Pilot Transport Licence and graduate to second officers.

They then move to the Etihad Academy to complete their simulator training – which can take up to a year. That is followed by 43 flights under the supervision of a training pilot after which they graduate as first officers.

The airline will launch new specialised programs in government affairs, network planning, properties and logistics to diversify its offering and train UAE nationals in all aspects of the aviation business. A total of 21 different development programs are now being offered as part of the UAE national development initiatives at Etihad Airways.

Follow Emirates 24|7 on Google News.