ADNOC signs framework agreement with Uzbekneftegaz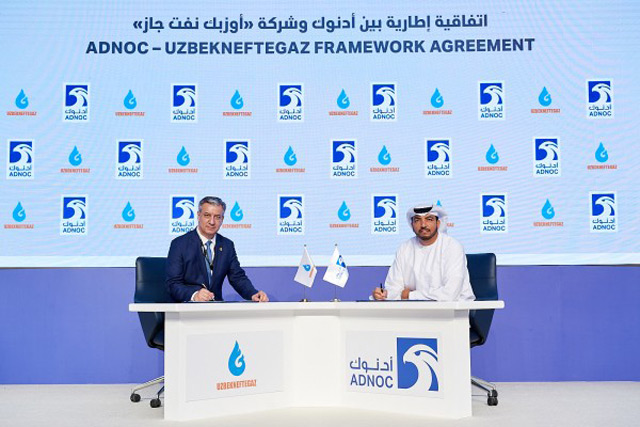 The Abu Dhabi National Oil Company, ADNOC, signed, today, a framework agreement with Uzbekneftegaz, a joint stock company of Uzbekistan's oil and gas industry, under which ADNOC will provide strategic advice in relation to Upstream and Downstream operations.
The agreement was signed by Omar Suwaina Alsuwaidi, Executive Office Director at ADNOC, and Bakhrom Ashrafkhanov, Chairman of the Board, Uzbekneftegaz, at the Abu Dhabi International Petroleum Exhibition and Conference, ADIPEC 2018, taking place in Abu Dhabi, until Thursday.
Commenting on the signing, Alsuwaidi said, "ADNOC has a 47-year successful track record of developing Abu Dhabi's oil and gas industry and creating the greatest value from maturing and new resources. We have built a large body of knowledge and expertise which can support Uzbekneftegaz's growth plans, as it seeks to maximise the value of the country's oil and gas resources."
Uzbekneftegaz was established in 1992. In 1998, it was transformed into a Joint Stock company. It has partnerships with the Korea National Oil Corporation, Lotte Chemical, KOGAS, China National Petroleum Corporation, Lukoi, Gazprom and others. At the moment Uzbekneftegaz implementing such strategic projects as construction of GTL plant and revamping of Shurtan Gas Chemical Complex.
Ashrafkhanov, "ADNOC is leveraging all its resources, its partnerships, the skills of its people and, in particular, the latest technologies, to deliver greater shareholder value. It has a proven track record of solving complex upstream and downstream operational challenges and, we believe, its ongoing support will help accelerate our own plans to maximise returns from our gas resources."
The BP Statistical Review of World Energy puts Uzbekistan's proven gas reserves at 1.1 trillion cubic metres and oil reserves at 100 million tons. According to industry sources, the main focus of oil and gas activity is in the under-explored basins, mainly in the central and western parts of the country. However, potential still exists in the older oil producing area in the east where modern technology will be required to develop some prolific fields which have been discovered and remain to be discovered in this area.
Follow Emirates 24|7 on Google News.