After Apple, now LG reports 125% increase in profits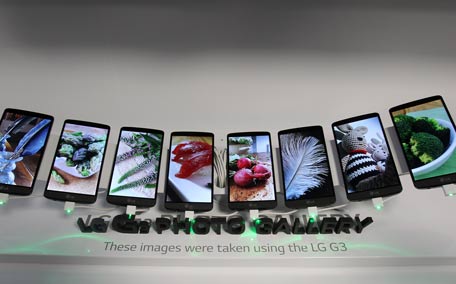 Tech companies are definitely on a roll. Just a day after Apple announced its most profitable quarter in history, LG has now announced its annual results.

LG's latest results point an increase in the net profit by 125 per cent or $474.81 million during 2014, mainly boosted by its G3 smart phones.

The south Korean tech giant which deals with home entertainment, home appliances apart from mobile communications said the fourth quarter was however disappointing with a $189 million loss as a result of the closure of its Plasma TV division.

The star performer was once again the smartphones, especially the G3. The company said that the full-year consolidated revenue of $55.91 billion was mainly boosted by a 24 per cent increase in smartphone shipments.

The LG Mobile Communications Company reported a 16 per cent increase in annual revenue to $14.26 billion with help from North America, where shipments increased 78 per cent during the fourth quarter of 2014 from the previous year.

Fourth-quarter revenue of $3.48 billion was 5 per cent higher than the same period in 2013. A total of 59.1 million smartphones were shipped in 2014, an increase of 24 per cent from the previous year, among 78.2 million mobile handsets sold last year. LG's G series includes the G3, the G3 Stylus and the G3 Beat.

The company statement also pointed out to a more challenging year ahead with greater competition globally from various manufacturers.

"LG will concentrate on improving its brand power, operating more efficiently, and focusing on selective key markets," the note said.

The LG Home Entertainment Company reported full-year operating profit of $482.01 million, an increase of 31 per cent year-on-year while full-year revenue increased slightly to $18.35 billion. Fourth-quarter revenue increased 20 per cent quarter-on-quarter to $5 billion as a result of increased TV demand. According to the company markets in Europe, CIS and North America drove the demand mainly in Oled and Ultra HD TVs segments.

The LG Home Appliance Company reported full-year 2014 sales of $10.93 billion with sales boosting in Europe, Middle East, Africa and Southeast Asia. Fourth-quarter revenue of $2.65 billion was up slightly from the same period 2013 while operating profit of $78.27 million was 64 per cent higher quarter-on-quarter and up 2 per cent from the same period the previous year.
Follow Emirates 24|7 on Google News.