Apple's iPad is passe: Panasonic unveils world's biggest tablet ever at CES 2013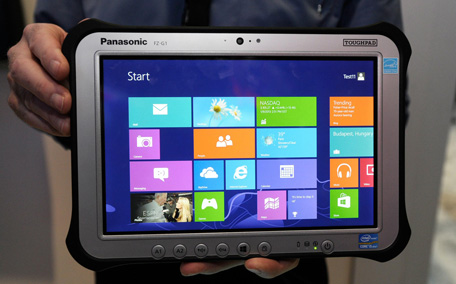 Are you ready for this? Panasonic that's more known for its plasma displays and household electronics has announced the world's largest tablet with a resolution that we have not seen in any other device so far.
The 4K tablet will run with an astonishingly massive display of 840x2,560-pixel resolution and 230 pixels per inch and will have a 20 inch display and will run Windows 8. Compare this to MacBook Pro's 15-inch Retina Display that has the industry's best 2,880x1,880-pixel resolution at 220 ppi.
The device will just be half-an-inch thick and will come with a stylus. The device will be powered by Intel Core i5-3427U processor, 4GB of RAM, and 128GB SSD. Mainly aimed at business users and designers, it will be able to update content directly on the cloud.
The device was introduced during the Panasonic Keynote at CES 2013.
Meanwhile, Panasonic also announced that it is expanding its Toughpad line of tablets with the introduction of two new models running Windows and Android.
The Toughpad FZ-G1, a 10" tablet will feature Windows 8 Pro, and Toughpad JT-B1 is a 7-inch device and will be powered by Android.
FZ-G1 will have a 1,920 x 1,200 display, 1.9GHz Ivy Bridge Intel Core i5-3437U processor, a 128GB SSD (upgradable to 2654GB), and up to 8GB of RAM while the JT-B1 will features a 1,024 x 600 display, and comes equipped with a 1.5GHz dual-core TI OMAP 4660 processor, 16GB storage and 1GB RAM.
"The goal for Panasonic is to achieve 50 per cent market share in the ruggedized tablet space by 2015….For nearly 20 years, Panasonic has engineered the most reliable mobile computing devices on the market," said Rance M. Poehler, president, Panasonic System Communications Company of North America.
Follow Emirates 24|7 on Google News.