Arab economy loses $231 bn in 2009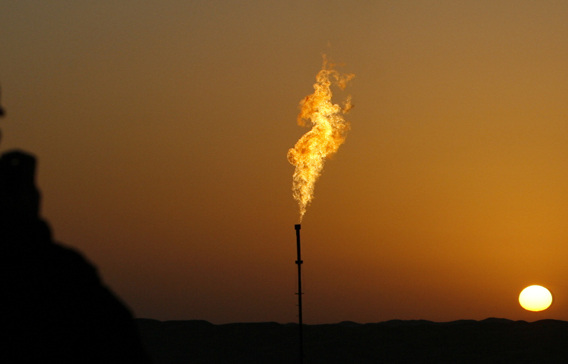 Lower crude prices depressed the combined Arab economy by nearly $231 billion in 2009 after a steady rise in the previous few years and the bulk of the decline was in the Gulf oil producers, official figures have shown.
From a record high of around $1,930 billion in 2008, the gross domestic product (GDP of the 21 Arab League nations slumped to nearly $1,699 billion in current prices in 2009, showed the figures published this week by the Abu Dhabi-based Arab Monetary Fund and two other key Arab League institutions.
The report has not yet compiled figures for 2010 but analysts believe the collective Arab economy rebounded because of an increase of at least $10 in average oil prices and output by some members last year.
The decline in 2009 pushed down the combined Arab GDP per capita to around $5,159 in 2009 from a record high of $6,002 in 2008, the report showed.
Almost half the decline in the Arab GDP in 2009 was in Saudi Arabia, the largest Arab economy and the world's dominant oil power.
Its nominal GDP plummetted to nearly $369.1 billion in 2009 from around $475 billion in 2008, when it peaked at an all time high after oil prices shot up to their highest average of nearly $95 a barrel.
Kuwait suffered from the second largest loss when its GDP dived to around $109.4 billion from $148.9 billion, a drop of about 39.5 billion.
The UAE's GDP, the second largest in the region, tumbled by nearly $26 billion to $225.6 billion from $251.8 billion, the figures showed.
Qatar's nominal economy also shrank to around $98.3 billion from $110.7 billion although its real GDP swelled by at least nine per cent because of a surge in its liquefied natural gas exports. Oman's GDP also receded to around $46 billion from $60 billion while Bahrain's GDP, the smallest in the Gulf, declined to around $20.5 billion from $24.3 billion in the same period.
The economy of conflict-battered Iraq shrank by around $10 billion to nearly $98 billion in 2009 from $110.7 billion in 2008.
Outside the Gulf, Algeria was affected most by the decline in oil prices as its nominal GDP plunged to around $139.5 billion from $170.2 billion.
Libya, another key OPEC oil producer, saw its GDP fall by about $23 billion to $63 billion from around $86.5 billion. Egypt's GDP, the region's second largest, surged to around $187.8 billion from nearly $162.4 billion, the figures showed.
Jordan's GDP grew slightly to around $22.9 billion from $21.3 billion while that of Syria gained nearly $three billion to rise to $52.2 billion from $49.2 billion.
Morocco's GDP, one of the largest in the Arab world, slightly gained ground to reach $90.5 billion compared with $89 billion while the economy of Tunisia slipped to about $43.5 billion from $44.9 billion.
Sudan's GDP edged up to $63.9 billion from $61 billion while that of Lebanon swelled to nearly $33.4 billion from $29.6 billion.
The economy of Yemen fell to $29.9 billion from $31 billion while that of Djibouti, the smallest in the region, climbed to nearly $1,104 million from $982 million. Mauritania's GDP slipped to $3.02 billion from $3.5 billion.
The report showed the real Arab GDP edged up by around 1.8 per cent in 2009 compared with 6.6 per cent in 2006.
"In current prices, there was an 11.9 per cent contraction in the Arab GDP in 2009 compared with 25.8 per cent growth in 2008," it said.
"The decline was mainly a result of lower oil prices, which also depressed the hydrocarbon sector's contribution to GDP to 30.4 per cent in 2009 from around 43.4 per cent in 2008."
Follow Emirates 24|7 on Google News.