Artificial Intelligence can check the spread of fake news but can never replace human journalists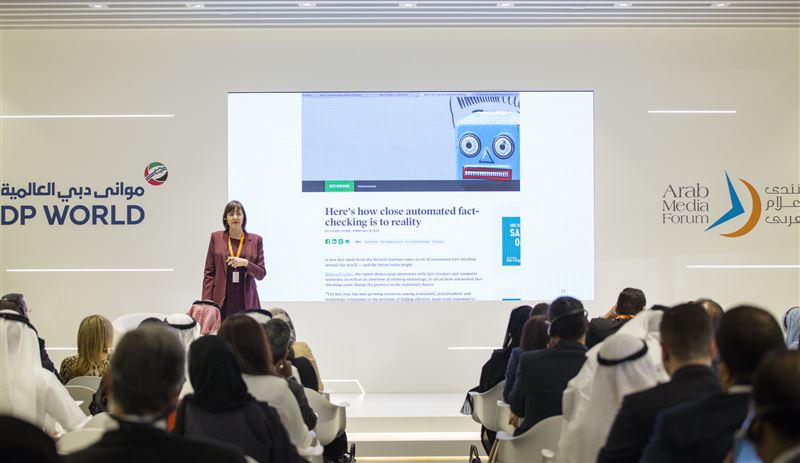 While Artificial Intelligence, AI, is making inroads into journalism, human journalists will not be replaced by robots. AI will mainly be used to assist humans in adapting to the latest technology trends to better suit the needs of new age media, said an expert.
Lisa Gibbs, Director of News Partnerships of The Associated Press, was addressing the audience at the 17th edition of the Arab Media Forum being held at the Madinat Jumeirah in Dubai.
Held under the patronage of Vice President and Prime Minister of the UAE and Ruler of Dubai His Highness Sheikh Mohammed bin Rashid Al Maktoum, the two-day event discusses impactful media trends in the region and beyond.
Speaking about the role of 'Artificial Intelligence and the Future of the Press', Gibbs noted that Artificial Intelligence in newsrooms will enable it to scale up content, automate certain types of stories and authenticate and fact check leads that emerge out of social media.
Urging media organisations to invest more towards developing algorithms that can help machines learn to perform certain automated tasks, she said, using the full potential of technology will allow its journalists to dedicate time for developing relevant and meaningful personalised content that resonates with readers.
AP, she says, has been investing in similar start-ups especially those that are into machine learning and can analyse data and convert them into text.
Describing the role of AI in AP newsrooms, Gibbs says technology is being used to collate information and come up with more mechanical content such as earnings report and sports scores, and that it has helped the organisation to scale up the number of stories.
"Compared to 300 earnings reports, using AI, we are able to produce 3,800 reports every quarter. We have achieved this by investing in new startups that can turn data into text," she said, adding that the world of text automation really allows the newsroom to produce a high volume of stories. AP, she says, is also working on creating video content using key words and texts.
Another use of AI, she says, is to convert original news content written by a journalist into various forms. "Today a journalist spends time to write multiple versions of the same story for print, online, social media etc. If we could get machines to do this job, journalists can spend time on reporting relevant news stories," she adds.
Commenting on future trends, she says a robot will never be able to replace a good journalist. "We don't believe that human journalists can be replaced with robots. Let journalists do what they are good at and let machines do what they are good at."
Follow Emirates 24|7 on Google News.