Baidu upbeat on outlook, targets social search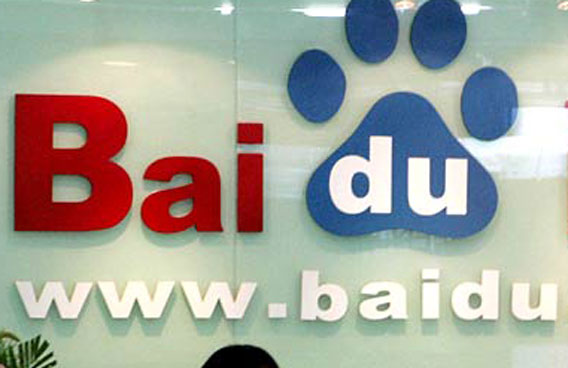 Baidu Inc (BIDU.O) beat fourth quarter estimates and painted a bright near-term outlook as it bets on large advertiser spending and new Chinese Internet trends, such as social networking, to spur growth.
Shares of Baidu, a favorite pick of hedge funds, rose 7.7 percent in after-hours trade following the upbeat earnings report on Monday. Options traders predicted before the results that the stock might break out of its recent five-month trading range.
China, with more than 450 million users, is the world's largest Internet market. Yet with Internet penetration hovering around 30 percent and user sophistication outside the big cities still low, the potential for growth is huge.
"The key attractiveness of Baidu is that they are the one and only one in China, they rely on the China story, the high growth Internet market and in particular search, and there's no other key competitor in the market," said Benjamin Tam, a Hong Kong-based portfolio manager with Investors Group.
Baidu, which has increased its focus on e-commerce and online video, grabbed more market share last year after rival Google Inc (GOOG.O) curtailed its operations following a high-profile fallout with Beijing over censorship. Baidu is the No. 1 Internet search engine in China with a 70 percent market share.
The company breezed past Wall Street financial targets in the fourth quarter and reported a higher-than-expected first-quarter revenue outlook.
Beijing-based Baidu's fourth-quarter net income rose to $175.9 million, or 50 cents a share, from $62.7 million, or $1.80 a share, a year ago, before a 10-for-1 stock split. That beat analysts' average forecast of EPS of 45 cents.
Shares in Baidu ended regular trading up 2 percent at $108.63 on Nasdaq.
The firm, whose name comes from an ancient Song Dynasty poem, will also launch a marketing campaign in the first quarter to increase the awareness of search amongst its users.
Baidu executives said the firm expects to aggressively increase investments for its server networks and offices as well as increase hiring in research and development.
One of the key focuses for Baidu in 2011 will be in social search, executives said at its call with investors.
"Social search products represent a significant portion of our total traffic and it continues to grow at a rapid speed," said Baidu's CEO Robin Li said.
"As time passed by we realized the commercial value of this product...So we are developing commercial products or ad products for social search services and going forward we expect to better monetize this kind of traffic," Li said.
Last year, Baidu expanded aggressively outside its core search business. It linked up with Hulu investors to create an independent online video company, Qiyi, and also teamed up with Japanese online retailer Rakuten (4755.OS) to form an online mall.
Local media reported over the past month that Baidu might invest into Sina's (SINA.O) hot microblog product Weibo. Baidu declined to comment on market speculation but Li said on the call that the firm was open to opportunities that "make sense" strategically for Baidu.
SPEEDBUMPS
Despite the upbeat outlook, some analysts warn of risks.
For the fourth quarter, Baidu had 276,000 customers, a 24 percent increase over a year ago but only a 1.5 percent increase from the previous quarter.
"This quarter only grew by 4,000 (customers) it's not the lowest. In Q4 2008, it grew only 3,000 additional customers, but having said that, we had the financial crisis back then," said Wallace Cheung, a analyst with Credit Suisse.
"I wouldn't say (the numbers) are very bad, but it's definitely not good enough," Cheung said.
Analysts also see an increasingly competitive landscape in China's search market in the coming years, as players like Sohu.com (SOHU.O), Alibaba Group and Tencent Holdings (0700.HK) wrestle for market share.
Baidu said revenue for the first quarter will come in between $360.6 million and $371.2 million, ahead of the average analyst forecast of $354.2 million.
Baidu cited continued improvement in "monetization" for nearly doubling fourth-quarter revenue from a year ago.
Baidu's revenue per online marketing customer increased roughly 56 percent in the fourth quarter.
Total revenue in the fourth quarter totaled $371.3 million compared with $184.7 million a year ago. Analysts, on average, had expected revenue of $360.3 million, according to Thomson Reuters I/B/E/S.
Follow Emirates 24|7 on Google News.