BlackBerry Z10: The biggest thing to happen to BlackBerry since BlackBerry?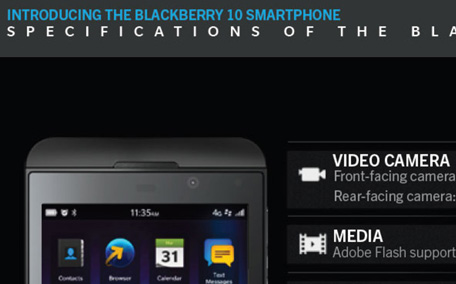 The (unofficial) word is out: leaked specs of the upcoming first BlackBerry 10 device – the BlackBerry Z10 all-touch-screen phone – reveal that Research in Motion (RIM) might have its fortunes reversed (they were in reverse motion for a long time) once the phone hits Dubai – and five other markets – on January 30, 2013.
TechRadar claims to have gotten hold of official RIM documentation (a PowerPoint presentation) which details the specs of the new smartphone.
The good news: If these documentations are genuine, the first BlackBerry 10 smartphone will feature specifications that are comparable to the competition's (and we mean iPhone 5, Samsung Galaxy S3 and Nokia Lumia 920, among others).
The even better news: It'll also feature specs that some of its competitors are currently lacking. BlackBerry Z10 will feature NFC, or nearfield communication (contactless content transfer) that is conspicuous by its absence in the iPhone 5 (but is present in the Samsung Galaxy S3 Nokia Lumia 920).
'Re-designed. Re-engineered. Re-invented.' That's what BlackBerry says about the new platform on its official BlackBerry 10 web page. One thing is for sure - it definitely spells Revival as far as RIM's sagging fortunes are concerned, a Recovery of at least some its lost market share, and a Reaffirmation of the company's future plans.
Leaked specs confirm that the L-Series will have the multiple connectivity options that BlackBerry is known for: Wi-Fi, Bluetooth, GPS, 4G – and of course, the NFC will be there too.
And there's more good news, which will be music to the ears of the old crackberry fan.
Remember the brouhaha about the iPhone 5 not really being 4G/LTE in various countries when the box said so? RIM, it seems, were paying attention at that time and will roll out the BB Z10 in (imagine the drum roll sound-effect here), four different avatars around the world to cope with the various network frequencies.
So, while the BlackBerry London will be the only non-4G variant with support for 21Mbps HSPA+, the BlackBerry Laguna, BlackBerry Lisbon and BlackBerry Liverpool will all feature LTE technology (imagine the cymbal sound here).
There's also this YouTube video featuring the BB Z10, giving an in-depth seven-minute look at the phone's hardware, as well as the BlackBerry 10 OS itself.
The previous rumours of a 4.3-inch screen now seem just shy of the actual 4.2-inch mark, according to the video's German-language narrator, as reported by Engadget.
The site also reported on Tuesday that the narrator lists a 1.5GHz dual-core ARM Cortex A9 processor, 2GB of memory, and 16GB of storage on the Z10.
Other specs listed on the slides that TechRadar claims to have in its possession include a 4.2-inch, 1280x768 HD display, 2GB of RAM, 16GB of internal storage and an 1,800mAh battery.
It confirms that the new device will come loaded with 2 cameras (as is the norm now): A front-facing 2MP lens will offer users a 2x digital zoom and 720p video recording the rear will sport a an 8MP snapper with single LED flash, auto focus, 1080p video recording and 5x digital zoom.
It has been additionally reported that RIM has received 15,000 BlackBerry 10 apps in less than 2 days of its 'port-a-thon' for developers.
That's a lot of apps already (many may not get approved and not see the light of the day) – and could bridge at least some of the distance between Android/iOS and the BB platform. Lack of apps has been BlackBerry's bane in recent years.
Lastly, as RIM's chief marketing officer has reportedly revealed, the BlackBerry 10 devices will cover all price points – so expect a 'mini' variant as well, even if that trails the main device's launch by a few months.
Follow Emirates 24|7 on Google News.