Brand Dubai, DIFC sign MoU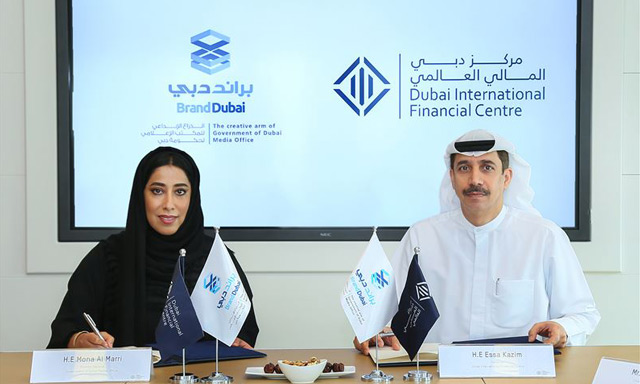 Brand Dubai, the creative arm of the Government of Dubai Media Office, GDMO, and the Dubai International Financial Centre Authority, DIFC Authority, have signed a Memorandum of Understanding, MoU, to foster the growth of art, culture and creativity in Dubai.
Under the MoU, Brand Dubai and the DIFC Authority, will collaborate to expand cultural development in Dubai and initiate projects to inject fresh energy and ideas into the emirate's artistic and creative environment. The two organisations will identify opportunities for a range of joint initiatives to promote excellence in the fields of art and creativity.
Essa Kazim, Chairman of DIFC Authority and Governor of DIFC, said, "Through our partnership with Brand Dubai, we are looking to further develop and create new opportunities within Dubai's cultural ecosystem. DIFC's emergence both as a leading global financial hub and a centre for lifestyle, arts and culture offers an ideal platform for unique new creative ventures. Our cooperation with Brand Dubai enables us to further empower talented individuals and promising ventures seeking to mark in Dubai's creative community. The upcoming Gate Avenue in DIFC will be a space for artists and creative professionals to express themselves and showcase their talent. We are keen to work with Brand Dubai to further enrich creative and cultural activity both in Centre and the city."
Mona Al Marri, Director-General of the GDMO, said, "We are very pleased to forge a new cooperation with Dubai International Financial Centre Authority to support the growth of Dubai's exciting cultural environment. Guided by the vision of His Highness Sheikh Mohammed bin Rashid Al Maktoum, Vice President, Prime Minister and Ruler of Dubai, the emirate has demonstrated that it can bring together the resources and talent required to become one of the world's major cultural hubs. We are keen to work with DIFC to facilitate a greater role for art and creativity in the lives of people in Dubai through fresh new concepts and approaches. Our cooperation with DIFC brings together each other's distinctive capabilities, which in combination can provide a new impetus for the development of art, culture and creativity in Dubai."
One of the key focuses of the agreement between DIFC and Brand Dubai will be in exploring initiatives to promote art and creativity in Gate Avenue, an upcoming premium urban retail, leisure and cultural development at the heart of DIFC.
Follow Emirates 24|7 on Google News.