Drydocks World repairs crane vessel Al Ghweifat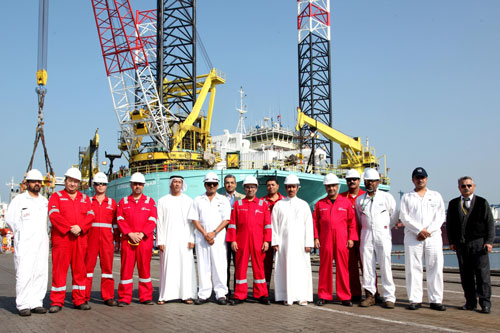 Drydocks World, the leading international provider of maritime and offshore services to the shipping, oil, gas and energy sectors, completed major repair and refurbishment of National Drilling Company's (NDC) self-elevated crane vessel Al Ghweifat at its Dubai-based shipyard.
The 165 ft x 140 ft x 15 ft self-elevated crane vessel has undergone extensive maintenance related repair and refurbishment.
Extensive maintenance performed on the three Truss type 260 feet long legs including the spud can, which would enable the vessel to attain peak performance at 157 feet of water. Besides external inspection, blasting and painting of the legs hull, deck, accommodation and tanks was carried out. Leg guides were inspected, replaced and painted.
Around 160 tonnes of steel was renewed. The 7 ft 7 inch high by 25 feet diameter spud cans and pumping equipment were surveyed for maintenance. Five-yearly inspection of two 70-tonne side cranes resulted in appropriate modification to install man riding. In addition, the Searex Omnilift 210-tonne crane was dismantled, inspected and overhauled.
An Aluminum heli-deck was supplied and installed. Designed to accommodate BELL 214/212 ST helicopters and approved by Abu Dhabi Aviation Authority, the steel substructure and landing points were fabricated and designed on the vessel. The existing firefighting system was modified to allow landing of helicopters while in afloat mode. Additional booster pumps were provided for FiFi system and extra lines fabricated from sea chests to the new heli-deck and a new heliport has been added. The capacity of the submersible pumps and the size of hose reels were increased to suit the Standards of Offshore Helicopter Landing Areas, CAP437.
The accommodation was completely refurbished, AC was repaired and upgraded, pipes were replaced, bow and stern thrusters, overhauled and tail shafts were removed and re-aligned with gear boxes. The shipyard built and manufactured the upper surface of the vessel consisting of two decks (including radio room and bridge), senior level deck and all stair cases. The scope of work in accommodation was huge and touched all possible aspects and the challenge could be taken up due to the yard's extensive engineering experience and expertise. An inclining experiment was carried out while afloat on the sea.
The repair and maintenance carried out by Drydocks World for NDC has increased over the years as the company received four orders late last year to add to the eight projects completed prior to 2013.
Khamis Juma Buamim, Chairman of Drydocks World & Maritime World, said: "We are grateful to NDC for their constant support and trust in our services. It has been our constant endeavour to establish meaningful relations with leading local players in the offshore services arena in order to heighten the prospects and popularity of this region as a rapidly evolving destination for services in this arena for the global industry. I congratulate the project team once again for delivering as promised. This project highlights our capabilities to implement sophisticated projects through excellent engineering and project management skills. Our efforts at upgrading technology, skills and procedures to be the best in the business have borne excellent results. We have been providing extensive services related to barge refurbishment, upgrade for rehabilitation and new building to global established players."
NDC Chief Executive Officer Abdalla Saeed Al Suwaidi commented on the completion of this project by saying: This project is another step in the road of excellence towards maintaining the highest levels of reliability and providing the best quality of services to our clients. NDC undertakes every necessary measure and all required actions to ensure that every piece of equipment used in operations is functioning at optimum performance and fulfilling the most stringent safety and environment requirements.
Follow Emirates 24|7 on Google News.