Dubai Airshow ends with $63.3bn deals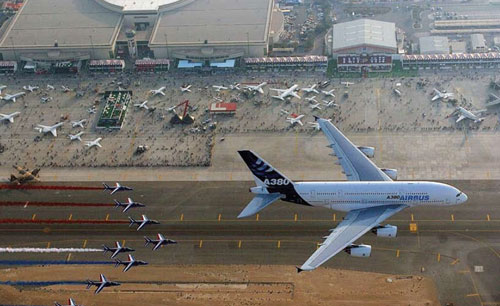 The 12th edition of Dubai Airshow ended on Thursday by recording $63.3 billion (Dh232.3 billion) worth of orders for aircraft, maintenance services and flight training programmes, the organiser said.
In 2009, the on-site order book totalled $14 billion (Dh 51.4 billion) compared to more than $100 billion (Dh367 billion) registered at the show in 2007.
The airshow organiser F&E Aerspace said the visitor numbers broke the record with 56,548 people attending compared to 52,978 visitors in the previous edition, an increase of 6.7 per cent.
Sheikh Ahmed bin Saeed Al Maktoum, President of Dubai Civil Aviation and Chairman and CEO of Emirates airline and Group, announced on Wednesday that the next edition of the airshow will be held at the newly-built Dubai Aviation City at Dubai World Central in Jebel Ali. He said the government is pumping Dh1 billion to expedite completion of the venue. The investment will cover the relocation of the Dubai Airshow 2013 to Dubai World Central and start of the first phase of development of its aviation district.
The new venue of Dubai Airshow 2013 will encompass a larger area than the current facility and will consist of a grand reception building, two large exhibition halls, and static display areas, which will offer more space to accommodate additional aircraft.
Commenting on the just-concluded airshow, Alison Weller, Managing Director of F&E Aerospace, said: "We promised a Dubai Airshow that would be bigger and better than ever and we did not disappoint. The past week has been notable for its buoyant crowds, spectacular aerial displays and astonishing order announcements. As the show comes to an end, it will be time to take stock of the successes and the challenges, in preparation for Dubai Airshow 2013 at Dubai World Central!"
At 12th edition, Emirates ordered 50 of the long-haul Boeing 777-300ER for a record $18 billion, while Qatar Airways bought 50 Airbus A320neo single-aisles and doubled its orders for the long-haul A380 to 10.
"We have an ambitious and strategic plan to continue growing our international network and especially increasing our long-haul, non-stop routes," Sheikh Ahmed said.
On Thursday, Fujairah Aviation Academy in the UAE signed a deal with Iata to develop the facility as an Iata-approved training centre for high school graduates.
The UAE's 40th anniversary celebrations at the Airshow came to a climax as the country's new aerobatic display team – Al Fursan – opened the aerial display with a fly-past with an Emirates Boeing 777 aircraft, trailing the colours of UAE national flag.
Follow Emirates 24|7 on Google News.