Dubai expects 1 million visitors during Ramadan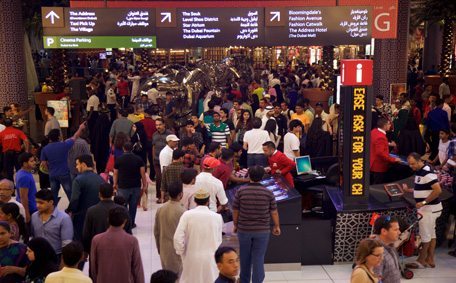 Retailers across Dubai are seeing steady spend during Ramadan, primarily driven by residents and international visitors, including those from across the GCC proximity markets.
Overall, close to 1 million international visitors are expected to visit Dubai during the Holy month.
Overnight visitors from the GCC to Dubai have continued to increase in 2016, with close to 1.3 million visitors in the first four months of the year. Saudi Arabia and Oman alone saw 587,000 and 428,000 visitors come to Dubai between January and April 2016, up 13 per cent and 30 per cent, respectively, over the same period last year.
Further to this, and adding to increased visitor expectations, the UAE was recently nominated as a top 10 travel destination during Ramadan among Muslim travellers in 2016, according to a study by MasterCard and Singapore-based halal tourism online platform CrescentRating. The UAE ranked eighth in the list topped by Malaysia, Indonesia and Singapore, according to the first Ramadan Travel Report. The UAE is likely to emerge as the second most popular destination in 2022 and the top travel destination during Ramadan in 2027.
Issam Kazim, CEO, Dubai Corporation of Tourism & Commerce Marketing said: "Dubai continues to be a year round city and with an enhanced destination proposition we are seeing more visitors and residents alike choosing to celebrate the Holy month with family and friends in the city. We have seen positive forward bookings and hope to welcome more visitors to the emirate and our many offerings this month."


Many of Dubai's retailers also echoed the sentiments, and despite slower growth projections for the first half of 2016, have seen positive upswings across the Holy month to date, buoyed by strong retail promotions and offers.

Majid Al Ghurair, Chairman of Dubai Shopping Malls Group (DSMG) said: "Ramadan is a time for sharing and caring; moreover, inspiring people to buy gifts for their friends and families on the occasion of Eid. The retail sector in Dubai is always geared to cater to this market, and in light of the auspicious occasion we are offering a rewarding experience for its shoppers during this season through its various offers and promotions."
This year around, DSMG has rolled out an innovative promotion wherein shoppers can win Eidiyat up to Dh1.5 Million all through the three days of EID. The campaign is designed not only to make a positive impact on the retail sector but it's also our earnest effort to enhance the experience for shoppers across Dubai.
Tawhid Abdullah, Chairman of Dubai Gold and Jewellery Group, said: "Ramadan is one of the important seasons for traders of gold and jewelelry, as the market experiences positive sales, especially during the last ten days of Ramadan in the run-up to Eid al Fitr, the time when people buy gifts for their families and loved ones. There was an increase in wholesale transactions in gold during this period, especially to Saudi Arabia, while retail sales rose slightly during the first half of the month of Ramadan, and has now begun to move much better as we approach the Eid holidays."

Abdullah said that he expected gold and jewellery sales to increase by 5 per cent during the Holy month compared with the month-long period of Ramadan last year. He pointed out that people consider gold a safe haven, and therefore, in the light of the global uncertainty, people prefer to buy gold, as it is the most trusted product.

Fuad Mansoor Sharaf, Senior Director – Property Management, Shopping Malls for Majid Al Futtaim Properties.
"Contrary to the perception that Ramadan is a quieter period - particularly during the summer - the shift lies in demographics and timings where visitation is busiest towards the late evening, with more families and children. Our F&B outlets enjoy increased business for Iftar and Suhour, and overall shoppers spend increases towards the end of Ramadan, in the lead up to the traditional gift-giving period of Eid Al Fitr. As such, we expect footfall and sales to be positive during the Holy Month this year," he added.
To accommodate guests who are observing religious practices during Ramadan, Majid Al Futtaim shopping malls across the UAE extending their mall hours to 1:00 am, with restaurants and cafes–staying open to as late as 2:00 am.
Osama Hamza Al Rahma, General Manager, Al Fardan Exchange, said: "Ramadan is a very important season for the money exchange sector, and this year we have witnessed between 3 and 7 per cent increases in remittances by the expatriate population in Dubai compared to the same period last year. This is largely because of Dubai's cosmopolitan character as a city that hosts people of diverse nationalities with many of the residents sending money to their families and loved ones and friends before the Eid al-Fitr.holidays."
He predicted that money exchange transactions will remain at a high level during the Eid al-Fitr holidays.
Follow Emirates 24|7 on Google News.