Emal to supply molten aluminium to Ducab unit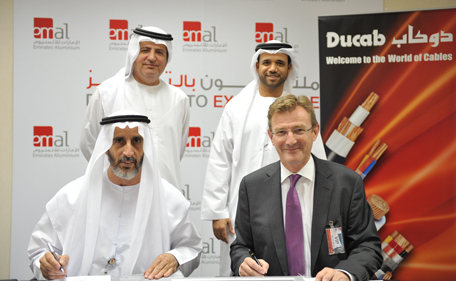 Emirates Aluminium (Emal) has signed a deal with Ducab Aluminium to supply molten aluminium to the latter's new aluminium rod mill that is currently under construction.

The location of the new industrial premises for the venture will be the Khalifa Industrial Zone Abu Dhabi (Kizad) at KP3 area, and the construction will be completed by the end of 2016. Through this partnership, Ducab will be supplied with molten aluminium as the principal raw material for the aluminium rod mill. The new plant aims to target the GCC and Mena markets, with the possibility of expanding to Europe and the Indian subcontinent later.

The Ducab Aluminium plant will have a production capacity of 50,000 tpa and will commence with an investment of Dh220 million ($60 million), which includes the costs of the plant, machinery, infrastructure, and buildings. The new plant will produce cables and electrical conductors using the latest technology and production standards, and will implement eco-friendly systems.

Ducab Aluminium, which will be located on the Kizad development's 'Hot Metal Road', will receive deliveries direct from the Emal smelter to their own facilities and will operate 24/7. Emal will supply 100% of the plant's requirements.

Ducab Aluminium is the latest addition to the growing number of downstream industries being developed in Kizad as part of the UAE's ambitious vision to diversify the economy away from dependence on the hydrocarbon sector.

Ducab Chairman Jamal Salem Al-Dhaheri said: "Ducab Aluminium is delighted to announce this arrangement with Emal, a world leader in the aluminium industry. This long term supply agreement is evidence of the strong partnership that we have with Emal, allowing Ducab Aluminium to develop a complementary downstream industry in both aluminium rod and conductors."

Saeed Fadhel Al-Mazrooei, President and CEO of Emal, said: "Diversification of the UAE economy is vital for our future prosperity, and Ducab Aluminium ̶ a joint venture between Senaat and Ducab ̶ is another example of the progress being made to deliver this economic vision. A comprehensive development plan that is being implemented in the UAE aims to increase the contributions of the industrial sector to the GDP to about 25 percent by 2025."

Ducab Aluminium is a joint venture between Ducab, the Middle East's leading manufacturer of high-quality cables and cabling products, and Senaat, one of the largest industrial investment and holding companies in the UAE.

Follow Emirates 24|7 on Google News.