Emirates capacity to grow 12%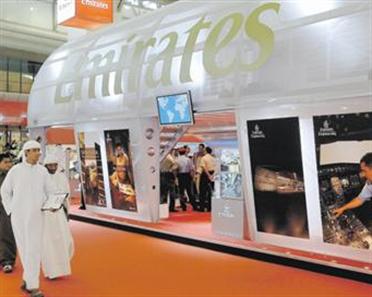 Dubai's Emirates airline is poised to become the largest wide-body carrier in the world by 2016, according to the latest report on the Middle East aviation industry.
"Over the next five years, we expect that Emirates will continue its ascent and become the largest wide-body carrier in the world. We further expect that its regional peers, Qatar Airways and Etihad Airways, won't be far behind in the ranks of the top 20. We project that passenger flows to and from the Middle East will reach nearly 140 million by 2015 – an increase of 45 million during 2010-2015," Boston Consulting Group (BCG) said in the report.
The Middle East's largest carrier has almost tripled its capacity and passenger revenues in the last five years.
Dubai's carrier is currently the world's second largest airline in terms of wide-body fleet capacity after Air France/KLM.
Last year, Emirates ordered 30 777-300ER wide-body aircraft worth $9.1 billion from US manufacturer Boeing at the Farnborough Air Show. The deal added to airline's fleet of 71 of the same type.
The Dubai carrier has 79 A380s, 70 A350s and 7 B777 freighters on order with a total price of more than $67 billion.
Emirates has emerged as the fastest growing among the world's three top airlines in terms of monthly capacity, according to a recent report by Centre for Asia Pacific Aviation.
Although Emirates' cash margins – according to BCG analysts – decreased from 28 per cent to 23 per cent during the past years, they still compare favourably with those of other international airlines. "In fact, considering that the decline has occurred during a period of weak growth in overall demand – when cash margins everywhere have been squeezed by reduced business travel – Emirates' performance stands out as exceptional."
BCG estimated Emirates will grow its capacity by nine to 12 per cent annually through 2015 to become the largest operator of wide-body aircraft.
Having a newer and fuel-efficient fleet will enable Dubai's carrier to simplify its maintenance and crewing operations, reduce fuel costs and wield significant operating-cost advantages over airlines that deploy older and more complex fleets. "We estimate that delivery of newer, more cost-effective aircraft over the next several years will reduce unit operating costs at Emirates by an additional 12 to 15 per cent below their already-low levels," the authors said.
Furthermore, Emirates' cost position is greatly enhanced by minimal airport fees it pays at its Dubai hub and relatively low personnel costs.
Qatar Airways and Etihad are also believed to be enjoying similar advantages.
Regional airlines
Led by the mega carriers, the regional airlines are expected to triple their passenger capacity over the next 20 years, BCG analysts said.
The key drivers of this growth would be regional megacarriers' cost advantages, close alignment with the national policies of their home countries and dynamics of demand aggregation for midpoint hub carriers.
BCG believes that next five years will be challenging to maintain profits while also realising aggressive expansion plans in an increasingly competitive and overcrowded marketplace.
Analysts highlighted inter-regional rivalry, competition from low-cost carriers, emergence of airlines in Turkey, India and China and foreign governments restricting their market access or alter pricing regimes as major threats to regional carriers' growth.
Follow Emirates 24|7 on Google News.