Emirates Group posts Dh5.5bn annual profit, 2nd highest in its history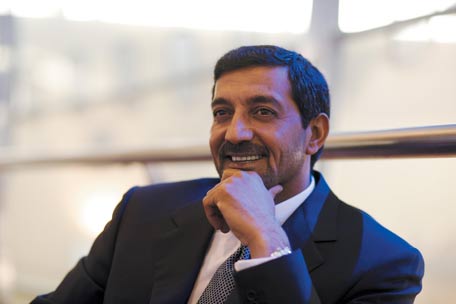 The Emirates Group today announced its 27th consecutive year of profit and steady growth across the company, ending the year in a strong position despite the many global and operational challenges during this period.
The Emirates Group posted Dh5.5 billion ($1.5 billion) profit, up 34 per cent from last year. The Group's revenue reached Dh96.5 billion ($26.3 billion), an increase of 10 per cent over last year's results, and the Group's cash balance remained strong, growing to Dh20 billion ($5.5 billion).
"2014-15 was a turbulent year for aviation. The fall in oil prices provided cost relief in the second half of our financial year, however it did not offset the hit to our profitability caused by significant currency fluctuations, nor the hit to our revenue from operational adjustments in addressing the Ebola outbreak, armed conflicts in several regions, and the 80-day runway upgrading works at Dubai International airport (DXB). Achieving our 27th consecutive year of profit and one of our best performances to date, is testimony to the strength of our brands and business fundamentals, as well as the dedication and talent of our workforce," said Sheikh Ahmed bin Saeed Al Maktoum, Chairman and Chief Executive, Emirates Airline and Group.
The strong rise of the US dollar against currencies in many of Emirates' and dnata's key markets had an Dh1.5 billion ($412 million) impact to the Group's bottom line, while the 80-day disruption at DXB had an estimated impact of Dh1.7 billion ($467 million) on Group revenue.
"Every year brings a new set of challenges. In addressing these, we are always guided by the best interest of our people, our customers, and our long-term goals. As a Group, we keep a close eye on our top and bottom lines, but we never take our foot off the gas pedal when it comes to investing to enhance our business performance, and looking after our people. In 2014-15, the Group collectively invested over Dh20.2 billion ($5.5 billion) in new aircraft and equipment, modern facilities, the latest technologies, and staff initiatives. This was the second highest amount ever in one financial year after last year's record investment."
The Group's employee base across its more than 80 subsidiaries and companies increased by 11 per cent to over 84,000-strong representing over 160 different nationalities.
"Looking ahead, the ongoing uncertainty for many currencies and economic markets around the world will continue to pose a challenge, as will the looming threat of protectionism in some countries. However, we move into the new financial year with confidence, and a strong foundation for continued profitability with our strong balance sheet, solid track record, diverse global portfolio, and international talent pool," said Sheikh Ahmed. "We will continue on our journey of steady and rational growth, and work even harder to meet and exceed our customers' expectations."
In line with the overall profit increase, the Group declared a dividend of Dh2.6 billion ($700 million) to the Investment Corporation of Dubai.

Emirates airline profit surges 40%

In 2014-15, Emirates increased capacity by four billion Available Tonne Kilometres (ATKMs). For the first time in the airline's history, Emirates' total passenger and cargo capacity crossed the 50 billion mark, to 50.8 billion ATKMs at the end of the financial year, cementing its position as the world's largest international airline.
Emirates received 24 new aircraft during the year, including 12 A380s, ten Boeing 777-300ERs and two Boeing 777Fs, bringing its total fleet count to 231. At the same time 10 aircraft were phased out, taking the average fleet age to 75 months or approximately half the industry average of 140 months. The airline remains the world's largest operator of the Boeing 777 and A380 – both aircraft being amongst the most modern and efficient wide-bodied jets in the sky today.
With the delivery of new aircraft, Emirates launched five new passenger destinations: Abuja, Brussels, Budapest, Chicago, Oslo and four new additional freighter-only destinations: Atlanta, Basel, Mexico City, and Ouagadougou. It also added services and capacity to 34 cities on its existing route network across Africa, Asia, Europe, the Middle East, and North America, offering customers even greater choice and connectivity.
The 80-day runway closure at DXB necessitated the grounding of 19 Emirates aircraft, reducing the airline's capacity by 9 per cent, and causing the reduction of services to 41 destinations over this period. The estimated impact on airline revenue was Dh1.6 billion ($436 million). The Ebola outbreak in Africa prompted route suspensions and increased health and safety screenings at other ports; and geopolitics resulted in the suspension of services and re-routing of flight paths to avoid overflying conflict zones.
Despite these challenges, Emirates revenue reached a new record of Dh88.8 billion ($24.2 billion). The average price of jet fuel dropped significantly during the second half of the financial year and has supported Emirates' bottom line improvement. Emirates' fuel bill decreased by 7 per cent over last year to Dh28.7 billion ($7.8 billion). Fuel is now 35 per cent of operating costs, down by 4 per centpts compared to last year. However, fuel remained the biggest cost component for the airline. Total operating costs increased by 6 per cent, compared to a revenue increase of 7 per cent over the 2013-14 financial year.
The airline successfully managed increased competitive pressure across all markets to record a profit of Dh4.6 billion ($1.2 billion), an increase of 40 per cent over last year's results, and a healthy profit margin of 5.1 per cent, the strongest margin since 2010-11.
Carrying a record 49.3 million passengers, up 11 per cent from last year, Emirates managed to achieve a Passenger Seat Factor of 79.6 per cent, an improvement compared with last year's results (79.4 per cent) in spite of a 9 per cent increase in seat capacity by Available Seat Kilometres (ASKMs). This highlights the strong consumer desire to fly on Emirates' state-of-the-art aircraft, and via efficient routings through its Dubai hub.
Under pressure from the weakening of all major currencies against the USD, passenger yield dropped to 29.7 fils (8.1 US cents) per Revenue Passenger Kilometre (RPKM).
Emirates also improved its premium seat factor despite lingering economic uncertainty and strong competition in many markets. Premium and overall seat factor for the airline's flagship A380 aircraft outperformed the network, underscoring the popularity of Emirates' premium and A380 product amongst passengers. At 31 March 2015, Emirates had 59 A380 aircraft in its fleet, serving one out of every four destinations on its passenger network.
To fund its fleet growth, Emirates raised a total of Dh18.7 billion ($5.1 billion), using a variety of financing structures. Emirates achieved a major landmark when it closed the first ever Japanese Operating Lease on an A380. It also entered into a Japanese Operating Lease with a Call Option (JOLCO) with respect to one A380-800 aircraft to expand the investor base of the A380 into the Japanese market. During the year, Emirates also successfully closed sale and leaseback transactions for five B777-300ERs and one B777-200ER aircraft.
The financing highlight of the year was the successful issuance of a UK Export Finance (UKEF) guaranteed Sukuk bond of Dh3.4 billion ($913 million) to fund the acquisition of four A380 aircraft to be delivered in 2015. This deal marked the world's first Sukuk financing supported by UKEF and the largest ever capital markets offering in the aviation space with an Export Credit Agency guarantee.
These deals align with Emirates' strategy to seek diverse financing sources, and underscore its sound financials and the strong investor confidence in the airline's business model. Emirates closed the financial year with a healthy Dh13.3 billion ($3.6 billion) cash flow from operating activities.
Revenue generated from across Emirates' six regions continues to be well balanced, with no region contributing more than 30 per cent of overall revenues. Europe is the highest revenue contributing region with Dh25.2 billion ($6.9 billion), up 7 per cent from 2013-14. East Asia and Australasia follows closely with an increase of 3 per cent and Dh24.6 billion ($6.7 billion). The highest growth with 20 per cent was recorded for the Americas to Dh11 billion ($3 billion). Gulf and Middle East revenue increased 4 per cent to Dh8.6 billion ($2.3 billion).
Across the rest of the globe Emirates saw strong revenue increases from West Asia and Indian Ocean up 11 per cent to Dh9.2 billion ($2.5 billion) and Africa with Dh8.1 billion ($2.2 billion) in revenue, up 5 per cent.
In line with its customer-focused proposition, Emirates invested over Dh73 million ($20 million) last year to equip its fleet with free Wi-Fi. By 31 March 2015, 107 of its A380 and Boeing 777 aircraft offered Wi-Fi services. The airline also opened new dedicated airport lounges in Glasgow and Los Angeles, taking to 37 the number of dedicated Emirates Lounges across the world. Emirates also opened a new 300-seat contact centre in Budapest to support its growth and supplement its language and response capability.
Looking forward to 2015-16, Emirates has to date announced two new routes including Denpasar and Orlando aside from a number of capacity upgrades to existing destinations.
The 2014-15 financial year has been a strong one for Emirates SkyCargo who reported a revenue of Dh12.3 billion ($3.4 billion), a very remarkable 9 per cent increase over last year. Contributing 15 per cent of the airline's total transport revenue Emirates SkyCargo continues to play an integral role in the company's expanding operations.
Emirates SkyCargo's tonnage strongly increased by 6 per cent to reach 2.4 million tonnes in an airfreight market that remained challenging with fast-changing demand patterns. Emirates SkyCargo's performance highlights its ability to grow revenues against the industry norm. This year, freight yield per Freight Tonne Kilometre (FTKM) decreased by 1 per cent, and was also impacted by the weakening of major currencies.
On 1 May 2014, Emirates SkyCargo marked a major milestone with the move of its freighter operations to its new cargo terminal at Dubai World Central's Al Maktoum International airport (DWC). Capable of handling 700,000 tonnes of cargo annually, the new terminal at DWC is equipped with state-of-the-art technology and has the potential for further expansion to handle 1 million tonnes annually, positioning the business for future growth.
At the end of the financial year, the Emirates SkyCargo freighter fleet had grown to 14 aircraft - 12 Boeing 777Fs, and 2 Boeing 747-400Fs.
Emirates' hotels recorded revenue of Dh693 million ($189 million), an impressive increase of 23 per cent over last year. This positive development was supported by the opening of the second tower of the JW Marriott Marquis Hotel in Dubai, the world's tallest hotel.

Dnata performance

In its 56 years of operation, 2014-15 has been Dnata's most profitable yet, building on its strong results in the previous year. Dnata's revenue grew to Dh10.3 billion ($2.8 billion), crossing Dh10 billion for the first time. Dnata's international business now accounts for more than 60 per cent of its revenue.
This substantial revenue increase of 36 per cent was achieved through organic growth, and bolstered by the first full year of Gold Medal Travel Group operations which dnata Travel acquired in March 2014 of the previous financial year, the acquisition of Stella Travel in the UK in October 2014, and the remaining 50 per cent share in Toll dnata in Australia in February 2015. Also the sale of mercator, Dnata's aviation IT business, was completed in the 2014-15 financial year.
Building on last year's record levels of investment, Dnata continued to lay the foundations for future growth by investing Dh513 million ($140 million) into its business. Its key investments in 2014-15 included: a new 700-seat contact centre in the Philippines, new airport lounges in Manila and Dubai; new halal kitchens in Italy; new cargo facilities in Australia, Iraq, Pakistan, Singapore, Switzerland, UAE, and UK; and new travel retail outlets in the Middle East.
Revenue from Dnata's UAE Airport Operations, including aircraft and cargo handling increased moderately by 5 per cent to reach Dh2.5 billion ($685 million) as it was significantly impacted by the 80-day DXB runway closure. Airlines during this time either had to reduce frequencies or operate smaller aircraft. The estimated impact on Dnata's revenue was Dh113 million ($31 million). The number of aircraft handled increased moderately by 2 per cent to 188,752 whereas Cargo handling dropped by 7 per cent to 734,000 tonnes. Dubai World Central now accounts for 36 per cent of Dnata's cargo handling activities in Dubai.
Dnata's International Airport Operations division grew revenue by 16 per cent to Dh1.6 billion ($434 million), on account of increasing business volumes mainly in the UK. The number of aircraft handled increased by 5 per cent to 109,546 whereas Cargo noted a substantial growth of 15 per cent to 937,000 tonnes of handled goods. These results speak to the benefits reaped from the previous years' investments in new international cargo handling facilities particularly in the UK.
Dnata's Catering business accounted for Dh2.0 billion ($552 million) of its total revenue, up 7 per cent. The inflight catering business uplifted more than 46 million meals during the year, a healthy growth of 13 per cent on account of Dnata's consolidated operation in Italy as well as its growth in the UK.
Revenue from Dnata's Travel Services division has seen a sharp rise of 278 per cent to reach Dh2.7 billion ($726 million) and now represents the largest business segment in Dnata by revenue contribution. This is mainly attributed to business growth in the UK through the full year impact of Gold Medal Travel Group acquired March 2014 and the newly acquired business of Stella Travel as of October 2014. The underlying total transaction value (TTV) of travel services sold substantially increased by 66 per cent to Dh9.8 billion ($2.7 billion).
In 2014-15, Dnata's operating costs increased accordingly to Dh9.3 billion ($2.5 billion), reflecting the impact of integrating the newly acquired companies across its airport and mainly travel businesses.
Dnata's cash balance of Dh3.1 billion ($858 million) has significantly grown over last year impacted by the new acquisitions. It is the highest ever recorded figure. The business delivered a solid Dh1.1 billion ($288 million) cash flow from operating activities in 2014-15.
Dnata's employee strength increased to over 27,000, a 19 per cent growth which includes employees from its newly acquired companies. With the business' growing international footprint, dnata's staff ratio based in UAE has dropped to 51 per cent.
Follow Emirates 24|7 on Google News.