Emirates net soars 43% to Dh3.3bn; Revenue up 13%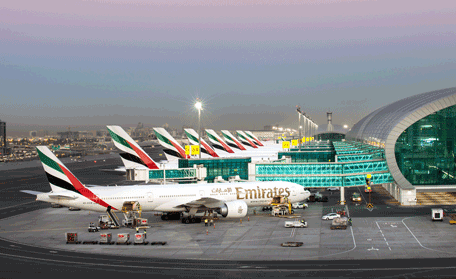 Dubai's Emirates Airline has announced a net profit of Dh3.3 billion, an increase of 43 per cent over last year's results, recording Dh82.6bn in revenues.
For the financial year ending March 31, 2014, Emirates Group posted Dh4.1bn profit, up 32 per cent from last year.
The Group's revenue reached Dh87.8bn, a year-on-year increase of 13 per cent, with a cash balance of Dh19bn.
Flying high
While the average price of jet fuel remained high, the airline said it was slightly lower compared to last year and has supported Emirates' bottom line improvement.
Emirates' fuel bill increased by 10 per cent over last year to reach Dh30.7bn, the airline said in a media statement to announce its annual results.
Total operating costs increased by 12 per cent, compared to a revenue increase of 13 per cent over the 2012-13 financial year.
Announcing the results, Sheikh Ahmed bin Saeed Al Maktoum, Chairman and Chief Executive, Emirates Airline and Group, said: "Achieving our 26th consecutive year of profit in a financial year marked by record increases in capacity and significant business investments across the Group, is testimony to the strength of our brands and our business fundamentals.
"Throughout 2013-14 the Group has collectively invested over Dh22bn, the highest amount ever in one financial year… Every dirham invested has been carefully considered against short and long-term goals – be it enhancing our capabilities, improving our product, or expanding our business footprint."
Similar to the last financial year, the Group declared a dividend of Dh1bn to the Investment Corporation of Dubai.
Emirates performance
In 2013-14, Emirates increased capacity by 5.9bn Available Tonne Kilometres (ATKMs).
This brings Emirates' total passenger and cargo capacity to 46.8bn ATKMs at the end of the financial year.
The airline also marked a new record of over one million block hours in terms of fleet production.
Emirates received 24 new aircraft during the year, including 16 A380s, six Boeing 777-300ERs and two Boeing 777Fs, bringing its total fleet count to 217.
The airline carried 44.5mn passengers, up 13 per cent from last year, maintaining a Passenger Seat Factor at 79.4 per cent.
Passenger yield remained steady at 30.4 fils per Revenue Passenger Kilometre (RPKM).
Highlighting its sound financials and investor confidence, Emirates raised a total of Dh12bn through a variety of financing structures, mainly to secure its ongoing fleet expansion.
Further, eight of the aircraft delivered in the financial year were funded through two corporate bonds issued in early 2013 which raised Dh6.4bn in funding.
With the delivery of new aircraft, Emirates launched nine new destinations: Boston, Clark, Conakry, Haneda, Kabul, Kiev, Sialkot, Stockholm and Taipei, as well as a new service between Milan and New York.
The Group also continued to invest in and expand on its employee base, increasing its overall staff count by 11 per cent to over 75,000 across its more than 80 subsidiaries and companies.
Revenue per airline employee increased by four per cent to Dh1.9mn.
"We are moving into the new financial year with confidence, and a strong foundation for continued profitability with our strong balance sheet, solid track record, diverse global portfolio and international talent pool," said Sheikh Ahmed.
Financial gain
Emirates closed the financial year with Dh12.7bn cash flow generated from operating activities.
Revenue generated from across Emirates' six regions saw East Asia and Australasia remaining the highest revenue contributing region with Dh23.8bn, up 14 per cent from 2012-13.
Gulf and Middle East revenue increased 17 per cent to Dh8.3bn, and Europe revenue increased 16 per cent to Dh23.4bn.
Across the rest of the globe Emirates saw strong revenue increases from Africa up 15 per cent to Dh7.7bn, The Americas up 11 per cent to Dh9.2bn and West Asia and Indian Ocean with Dh8.3bn in revenue, up three per cent.
In its first full year of operations, the newly commissioned Concourse A at Dubai airport for Emirates' growing A380 fleet witnessed a significant passenger throughput with 37 per cent or 8.2m Emirates passengers departing Dubai to board 27,000 flights.
In 2014-15, Emirates has to date announced five new passenger routes including Abuja, Brussels, Chicago, Kano and Oslo.
Cargo and Leisure
The airline stated 2013-14 financial year has been a strong one for Emirates SkyCargo, which, for the first time reported a revenue of Dh11.3bn, a nine per cent increase over last year; the operations contribute 15 per cent of the airline's total transport revenue.
Emirates SkyCargo's tonnage increased by eight per cent to reach a 2.3m tonnes; freight yield per Freight Tonne Kilometre (FTKM) decreased by one per cent.
At the end of the financial year, the Emirates SkyCargo freighter fleet had grown to 12 aircraft – 10 on operating lease and two on wet lease.
Emirates' Destination and Leisure Management including hotels recorded revenue of Dh623m, an increase of 35 per cent over last year.
dnata performance
dnata grew its revenue to Dh7.6bn, an increase of 14 per cent, through organic growth, as well as strategic international acquisitions; its international business accounted for 50 per cent of its revenue.
dnata also outperformed last year's profit to reach Dh829m.
In 2013-14, dnata invested Dh850m into its business. Key investments included: the development of dnata City – a 20-acre cargo logistics centre at London Heathrow Airport, additional warehousing capacity at seven airports across the UK, and capacity expansion of Freight Gate 3 at Dubai airport.
dnata's international growth continued with the addition of several new companies in its portfolio including the acquisition of Broadlex, an aircraft cleaning service provider in Australia, and Gold Medal Travel Group, a distributor of long-haul travel products in the UK.
dnata also acquired Air Chefs in Italy, by taking over the remaining 50 per cent stake from Servair.
Revenue from dnata's airport operations increased strongly by 15 per cent to reach Dh2.8bn.
The group attributed this year's performance to strong volume growth in the UK and Dubai.
dnata's cargo handling division grew revenue by eight per cent to Dh1.2bn, by increasing business volumes in the UK and additional road feeder services between both airports in Dubai. Dubai World Central now accounts for 30 per cent of dnata's cargo handling activities in Dubai.
dnata's catering business accounted for Dh1.8bn of its total revenue, up 25 per cent.
The inflight catering business uplifted more than 41m meals during the year, a rise of 44 per cent on account of dnata's consolidated operation in Italy as well as its growth in the UK and Australia.
Revenue from dnata's travel services division also saw growth of 22 per cent to reach Dh662m. The underlying travel services related turnover, measured by net sales value, increased 10 per cent to Dh5.9bn.
In 2013-14, dnata's operating costs increased by 15 per cent to Dh6.7bn.
Similar to last year, dnata retained a cash balance of Dh2.4bn and the business delivered Dh1.1bn operating cash flow in 2013-14.
dnata's employee strength increased to 23,000, a 14 per cent growth which includes employees from its newly acquired companies.
Follow Emirates 24|7 on Google News.