Emirates new India flights face obstacles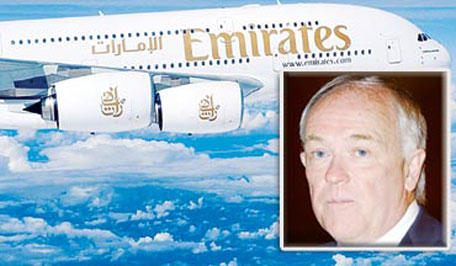 Emirates, one of the world's fastest growing airlines, is planning to launch new flights to India to meet a steady growth in passengers, but such plans are facing obstacles in the subcontinent, the carrier's president was reported on Sunday as saying.
Tim Clark also said Dubai-based Emirates is not facing any problems in funding fleet expansion and expected the government-owned company to boost revenue by 18-20 per cent in the current fiscal year.
"India is a very important market for Emirates but we are facing some obstacles in opening new flight destinations to that country.
"We are working to remove those obstacles through the ongoing serious efforts undertaken by the governments of the UAE and India," he told the Sharjah-based Arabic language daily Al Khaleej.
He cited a recent local study showing that Emirates contributes nearly
$596 million to India's economy every year, adding that Emirates also employs nearly 1,045 people in India and that its operations indirectly support about 72,323 jobs in that country.
Asked about Emirates' expansion plans, he said the company is pursuing such plans and that there are no funding problems. He said Emirates relies on what he described as a "wide base of funding sources"
including operational leasing sources, EU-US export credit lines, Islamic finance and borrowing from other sources, including Japanese and Germany investors.
"Emirates has always obtained funding on commercial basis. It has never received any funds from Dubai's government or the Dubai Investment Company unlike other airlines in the Gulf, which benefit from sovereign debt guarantees.
"Here, the government does not guarantee any loan taken by Emirates,"
Clark said.
He voiced optimism about Emirates' performance this year despite what he termed as the growing global challenges to the aviation sector," he said.
His forecasts showed Emirates' revenue would grow by 18-20 per cent and the number of its passengers by around 12 per cent.
Follow Emirates 24|7 on Google News.