Empower raising Dh1bn this year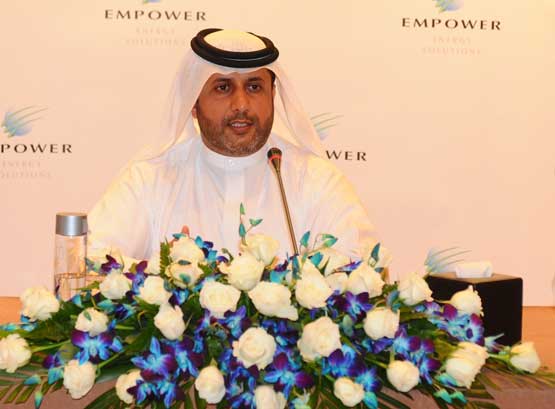 Dubai-based district cooling services provider Empower has raised Dh600 million this year and will raise an additional Dh400 million, its chief executive said.
Speaking to reporters in Dubai today, Ahmed bin Shafar said: "Our debt has dropped down from Dh1.3 billion to Dh480 million at the end of last financial year and we aim to bring it down further to Dh310 million by the end of this year.
"We are also taking fresh loans for the new projects; we're raising Dh1 billion this year. We have already raised Dh600 million through local and international banks and have got confirmation from the banks for another Dh400 million. In fact, we have already used Dh200 million from that loan for our two projects which are up and running now."
The utility major said it repaid Dh235 million loan upon maturity in 2012.
Empower today announced 2012 financial year results, registering 17 per cent increase in net profit to Dh190 million. Its assets totalled Dh4.5 billion last year, Bin Shafar added.
Bin Shafar said: "Empower achieved an annual increase of eight per cent in cooling capacity with over 400,000 refrigeration tonnes in 2012."
The company invested in improving infrastructure in a number of real estate projects including Business Bay, Tecom Site C, Dubai Healthcare City Phase 2 and Mirdiff. The company workforce increased by nine per cent in 2012.
Bin Shafar said the district cooling industry is growing in the UAE and is currently estimated at around Dh15 billion; the size is expected to increase to Dh42 billion in the next five years as new projects are announced.
Commenting on expansion in other Gulf countries, Bin Shafar said the talks are underway with GCC developers. "We have received requests for joint ventures from many markets, but it's too early to say whether it's going to be only knowledge transfer or advisory role or providing district cooling."
He also revealed that the company could go for an IPO in 2-3 years if the markets are liquid and performing well.
Follow Emirates 24|7 on Google News.