ENOC partners with Network International to introduce PIN-less credit card transactions at fuel stations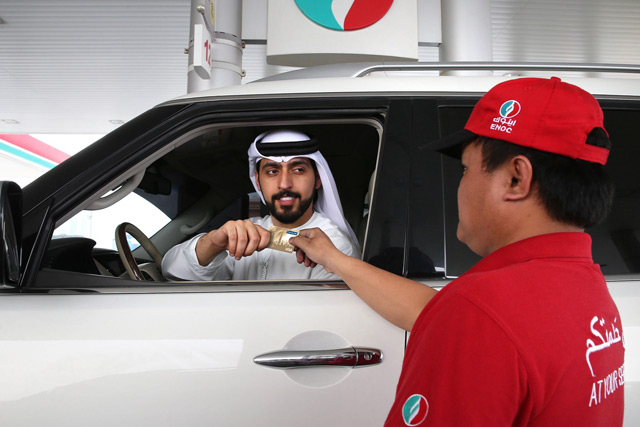 ENOC has introduced PIN-less and paperless debit and credit card transactions in the forecourts of its service station network – a first in the UAE for fuel retailers. The initiative has been launched in partnership with ENOC's technology partner, Network International, to ensure security of transactions, while enabling cardholders to retain confidentiality of their PIN numbers.

The new innovative initiative will ensure that customers will no longer be required to enter their PIN numbers while paying for fuel, thus reducing waiting times at ENOC and EPPCO service stations. The initiative also fulfils a long-standing customer demand to stay in the car during card payments and retain confidentiality of their PIN numbers.

Announcing the new service, His Excellency Saif Humaid Al Falasi, Group Chief Executive Officer of ENOC, said: "As a wholly owned Dubai Government entity, our efforts to facilitate smart payment solutions for our customers are aligned with the 'smart city' initiative announced by His Highness Sheikh Mohammed Bin Rashid Al Maktoum, Vice President and Prime Minister of the UAE and Ruler of Dubai and the Dubai Smart Government, which aims to transform Dubai to become the smartest city in the world."

"Innovation is a key component of our operations and so we worked closely with payment card providers and the Central Bank of UAE to introduce a technology which would ease the payment process, increase service efficiency and make refuelling faster and quicker, all the while ensuring the security of every transaction," added Falasi.

"Network International continuously enhances and upgrades its technology offering with the objective to facilitate customers and add value to their daily lives," said Simon Haslam, Group Chief Executive Officer, Network International. "We have worked closely with ENOC on this initiative, which will simplify the lives of customers, as they can now pay for refuelling on the go, without having to undergo the process of customer signature or verification, for payments up to a specified limit. This will also reduce queues at fuel station forecourts, as turnaround time for payments will be faster."

Security of transactions has been an important element in the evolution of this technology. Based on technology provided by service provider Network International, the Central Bank of UAE has relaxed the rule for entering the PIN numbers on all card transactions at ENOC/EPPCO service station forecourts up to a specified limit, to safeguard cardholder data and to make sure that any risk is mitigated. The fuel station does not have to provide a receipt unless requested by the customer. However, cardholder authentication is still required in cases where the customer pays in an off-forecourt environment such as a tyre-shop or mini-market.

The limit for the PIN-less and paperless transaction is AED 300 for VISA cards and up to AED 100 for MasterCard cards. All other existing Visa and MasterCard rules and regulations remain unchanged and unaffected.

Complementing the new initiative, ENOC also re-examined its pricing model for its ViP (Vehicle Identification Pass Vehicle) Radio Frequency Identification (RFID) based fuel retailing system, to make it more affordable for all consumers. ViP tags are now available at AED 50 per tag, allowing for those who prefer cardless and cashless transactions to use this fast, secure, and safe payment solution.
Follow Emirates 24|7 on Google News.