Etihad Airways' net profit up 52% to $73 million in 2014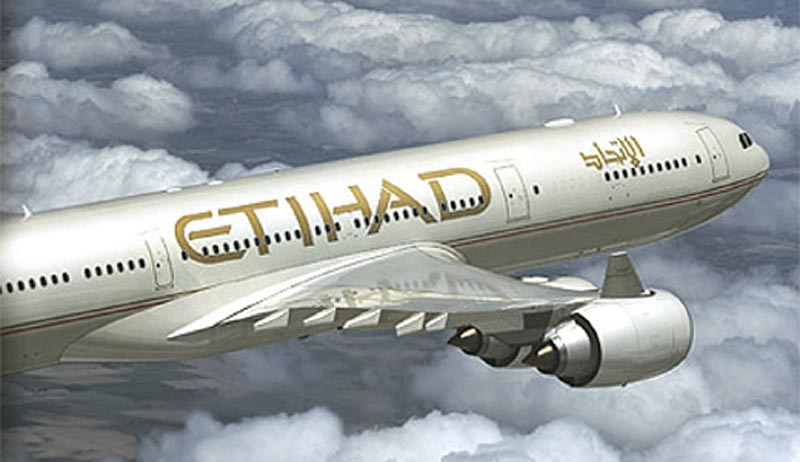 Etihad Airways posted a net profit of $73 million on total revenues of $ 7.6 billion in 2014, up 52.1 per cent and 26.7 per cent respectively over the previous year.

Earnings before interest and tax (EBIT) rose 32.5 per cent to $257 million. Earnings before interest, tax, depreciation, amortisation and rentals (EBITDAR) were up 16.2 per cent to $1.1 billion, representing a 15 per cent margin on total revenues.

James Hogan, President and Chief Executive Officer of Etihad Airways, said: "Our shareholder has set a clear commercial mandate for this business and we continue to deliver against that mandate. Our focus is on sustainable profitability and our fourth year of net profits, at a time when we continue to invest in the new routes, new aircraft, new product and new infrastructure needed to compete effectively, shows we are serious about that goal.

Etihad Airways carried a total of 14.8 million passengers in 2014, an increase of 22.3 per cent year-on-year. Revenue Passenger Kilometres (RPKs) – measuring passenger journeys - increased by 23.6 per cent to 68.6 billion (55.5 billion), while Available Seat Kilometres (ASKs) – representing capacity - grew by 21.8 per cent to 86.6 billion (71.1 billion).

Passenger numbers were strengthened by the continued enhancement of Etihad Airways' global network last year. The airline launched services to 10 new destinations in eight countries - Los Angeles, Dallas, San Francisco, Rome, Zurich, Medina, Yerevan, Jaipur, Phuket and Perth - and increased capacity on 23 existing routes. By the end of the year, the average network-wide seat load factor was 79.2 per cent, compared to 78.0 per cent in 2013.

A key driver of Etihad Airways' growth in 2014 was its partnership strategy, based on wide-ranging codeshares and its approach of minority equity investments in important airlines. This strategy delivered revenues of $ 1.1 billion in 2014, an increase of 37.7 per cent ($820 million), and represented 24 per cent of Etihad Airways' total passenger revenues.

Etihad says will support 23,400 jobs in US this year
Abu Dhabi-headquartered Etihad Airways will contribute $2.9 billion (Dh10.64 billion) and support 23,400 jobs in the US economy this year, according to research by global consultancy Oxford Economics.

Commissioned by Etihad Airways, the study projects that, by 2020, the airline's operating expenditure and capital investments will almost double to support 46,200 American jobs and deliver $6.2 billion (Dh22.75 billion) a year.

The study assessed the airline's capital expenditure with US suppliers and its operating expenditure in the country to calculate a value for direct, indirect, induced and catalytic contributions.

"Open Skies is good for competition and good for the consumer, but most of all today's report shows it is also good for the American economy," said Vijay Poonoosamy, Vice President International and Public Affairs of Etihad Airways.

"We are all growing as a result of Open Skies," he said. "That is good for the airlines, good for the US economy and good for customers."

"Since 2005, the year before we started flying to America, our expenditure and activities in the US market have supported thousands of jobs and helped to fuel domestic economic growth," he said, adding that "by 2020, Oxford Economics calculates that we will have committed $41 billion [Dh150.47bn] to the US GDP through a combination of direct expenditure on our day-to-day operations in the US and our long-term relationships with American partners including Boeing, GE Aircraft Engines and Sabre Airline Solutions."

Since 2004, when it announced plans to acquire five Boeing 777-300ER aircraft, Etihad Airways has introduced or ordered almost120 Boeing aircraft at a current list price of $36.5bn, including more than 70 B787 Dreamliner and 25 next-generation B777X aircraft.

The airline has also chosen US suppliers for other equipment ranging from cabin interiors to inflight entertainment systems.

Poonoosamy said a number of US airlines were also beneficiaries of Etihad Airways' presence in the US market.

In 2014, Etihad Airways delivered 182,000 connecting passengers onto US airlines including American, United, Delta and Jet Blue. This is forecast to grow to approximately 300,000 in 2015, an increase of 65 per cent, following the introduction last year of new routes to Los Angeles, San Francisco and Dallas Fort Worth.

"Put into perspective, that's equivalent to five full Boeing 737-800 flights every day of the year," Poonoosamy said.

In addition to the airline's direct expenditure, Oxford Economics says a further $1.3bn will be spent in America by the 260,000 international visitors which Etihad Airways expects to carry to the US this year from a range of markets, including countries across the Middle East and Indian sub-continent.

The economic benefits of connectivity between the US and destinations in the Etihad Airways network have been valued by Oxford Economics at $410m this year, rising to an expected $850m by 2020.

Poonoosamy said Etihad Airways' presence in the US market had generated economic activity for third party organizations including hotels, ground transport providers and a wide range travel industry partners.

The airline's economic contribution is further strengthened by its cargo activities, which will contribute to the movement of 80,000 tonnes of freight to and from the US this year.

In addition to the freight space in the bellies of its passenger jets, Etihad Airways has formed a strong partnership with the US aviation company Atlas Air, which operates three Boeing 747 freighters on behalf of Etihad Cargo.
Follow Emirates 24|7 on Google News.