Etihad Airways revenues up 29% in 2010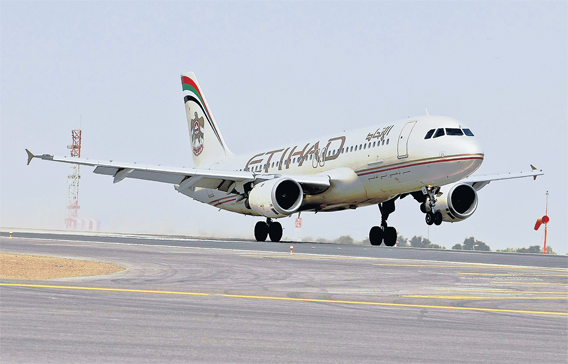 Abu Dhabi's Etihad Airways said its revenues surged 29.2 per cent in 2010 to $2.95 billion, edging it closer to meeting its break-even target this year.
"The result marked continued progress towards the airline's goal of break-even in 2011 and profitability in 2012," said a statement from the United Arab Emirates national carrier.
It said rising revenues outpaced it passenger capacity growth, which increased 19.5 per cent.
Passenger numbers topped seven million for the first time, up 13.1 per cent from 2009.
The carrier, which made its maiden flight in November 2003, said last year was the first in which it recorded positive earnings before interest, taxation, depreciation, amortisation and rentals (EBITDAR).
"This is a result to celebrate," said chief executive officer James Hogan.
"In a year in which we dealt with the continuing effects of global recession, erupting volcanoes, riots in Thailand and severe weather across Europe at one of our busiest times of year, we were still able to deliver an impressive performance," he added.
"We are confident we will achieve our goals in 2011, further developing the commercial success of the world's leading airline."
Etihad now serves 66 destinations. It has a fleet of 57 aircraft and a large list of aircraft on order, including 28 to be delivered between 2011 and 2014.
Follow Emirates 24|7 on Google News.