Etihad posts first annual profit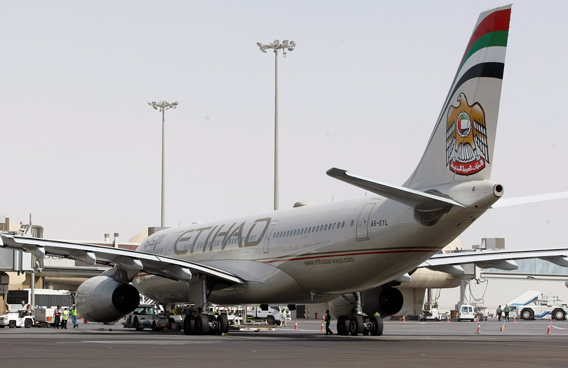 Etihad Airways, the fast-growing Gulf carrier, on Thursday posted its first annual profit since starting operations just over eight years ago.
The airline said it moved into the black with net earnings of $14 million (Dh51.38 million). That is better than its previously stated goal, which had been to break even for the first time in 2011.
It declined to say how much it lost a year earlier.
Etihad President and Chief Executive James Hogan said the company aims to generate sustained annual profits, and expects to make money again this year.
"We had a very clear vision to create an airline that is best in class, is safe and would make money," he told The Associated Press by phone. "The move to profitability is another important milestone and certainly changes the tempo of the company."
Etihad said it generated $4.1 billion in revenue in 2011, up 36 per cent from the previous year. Its earnings before interest and tax stood at $137 million.
The Abu Dhabi government set up Etihad in 2003, and remains its sole owner. The carrier has grown rapidly, with a network stretching as far as Tokyo, Sydney and Chicago. It boasts 65 planes in its fleet and has orders for 100 more.
It has sought to expand its reach further by buying stakes in struggling airlines overseas.
In December, Etihad agreed to raise its stake in Germany's Air Berlin to nearly 30 per cent by buying about euro73 million (then worth $95 million) in new shares. It also pledged to lend Air Berlin up to $255 million over the next five years to support development of its fleet and future growth.
Little more than a month later, Etihad said it would spend $20 million to buy 40 per cent of Air Seychelles, the national carrier in the tiny island country.
Hogan said Etihad is interested in pursuing similar deals, including in Europe, while pushing ahead with the growth of its own network. He declined to discuss specific airlines in which Etihad might buy a stake.
"There could be one or two more ... We continue to look at opportunities globally," he said.
Follow Emirates 24|7 on Google News.