Floating stadium, underwater TV studio for World Cup in Qatar?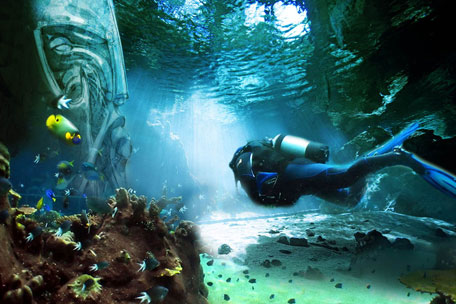 Four years back, Emirates 24|7 had first reported that Dutch Docklands, a Netherland-based sustainable floating architecture specialist, had proposed the idea of a floating Olympic village and a stadium for Fifa World Cup 2022.

"They will need to build infrastructure and stadiums. Although for many people it will be quite a visionary thought, but we can build a floating stadium or even a whole village for them," Paul van de Camp, Chief Executive Officer, Dutch Docklands, told this website.

Back to present: A media report states that Qatar is planning to build an underwater broadcast studio for TV coverage during the World Cup.

"The project we are in the process of designing for is an underwater broadcast centre [and] is quite a real possibility," Arabian Business quoted Patric Douglas, CEO, Reef Worlds, as saying.
Qatar's World Cup authorities "like the design" and "they like the notion of doing the World Cup underwater with sharks swimming around," Douglas told the website.

The site for the proposed underwater broadcast centre is likely to be a carved out area of rock, which would then be turned into a giant aquarium.

The project is likely to cost around $30 million to build with the funding being underwritten by broadcasters eager to use the unusual venue as a broadcast base when the country hosts the World Cup.

A final decision on whether to green light the project will be made in around two months' time, the website said.

In June 2014, Reef Worlds said it is designing "Pearl of Dubai", the world's largest sustainable underwater tourism site in Dubai.

The site is being designed to look like an ancient Lost City.

In May 2015, 'Emirates 24|7' reported that a Poland-based architecture firm was planning to build an underwater tennis complex in the emirate.

Architect Krzysztof Kotala of 8+8 Concept Studio, the promoter of the concept, is scouting for big time money (investors), building his case based on the "economic gains for Dubai if it is built here".
Follow Emirates 24|7 on Google News.