Hyundai Motor redesigns Sonata to reverse falling sales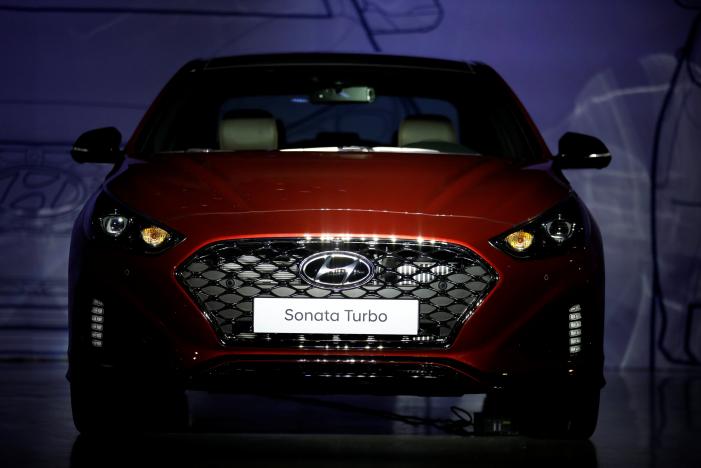 South Korea's Hyundai Motor Co unveiled a redesigned Sonata on Wednesday, aiming to reverse a fall in sales of a model struggling to stand out in a shrinking saloon segment.
Hyundai Motor has adopted a sporty look for the revamped car to regain ground lost to rival models such as Renault SA's SM6 in South Korea, where the market-leader's share fell to a record low last year.
The new Sonata will also take on Toyota Motor Corp's remodeled Camry in the United States, where mainstay saloons have been losing favor to petrol-guzzling sport utility vehicles as fuel costs fall because of low oil prices.
Hyundai Motor said it aims to increase domestic sales by 12 percent to 92,000 Sonata cars this year, domestic sales chief Lee Kwang-guk told reporters. The Sonata is Hyundai Motor's second-biggest selling model after its Elantra in South Korea as well as the United States, and one of its top sellers in China.
The stylish design and affordable price of the previous-generation Sonata, launched in 2009, propelled Hyundai Motor to its biggest-ever share of the U.S. market, and helped it escape an industry-wide downturn largely unscathed.
But its curvy styling received mixed reviews in the conservative home market of South Korea, prompting the automaker to tone it down in 2014.
With the latest version, Hyundai Motor has changed the sheet metal in an unusual move for a non-generational update. It has also given it a more sporty look with a curvy hood and a bigger grille. Lee said Hyundai Motor's next-generation Sonata will take design cues from this redesigned version.
Hyundai Motor is working on next generation cars with "a different flair" for marketing from 2019, Luc Donckerwolke, senior vice president for design, previously told Reuters.
Follow Emirates 24|7 on Google News.