Jebel Ali M-Station adds to DEWA's growing list of achievements as the largest power production and desalination plant in the region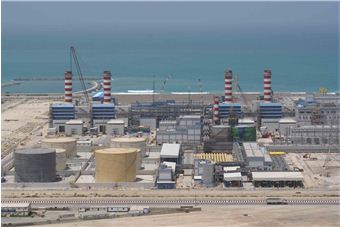 Dubai Government continues to achieve the highest quality life for citizens and residents in Dubai, while working to ensure sustainable development and the happiness of the current and future generation. Dubai Electricity and Water Authority (DEWA) is one of the biggest contributors towards Dubai and the government's vision, through its multiple projects and initiatives, and improving the efficiency of infrastructure to provide services that meet the highest levels of efficiency, reliability, and credibility.
"DEWA is confidently moving forward to achieve the Dubai Clean Energy Strategy 2050, launched by HH Sheikh Mohammed bin Rashid Al Maktoum, Vice President and Prime Minister of the UAE and Ruler of Dubai, in November 2015, to diversify energy sources in the emirate, deriving 25% from solar energy, 7% from nuclear power, 7% from clean coal, and 61% from gas by 2030.
Clean energy sources will be gradually increased to 75% by 2050. To achieve this vision, DEWA has launched a number of promising projects in the field of clean and renewable energy, most notably the Mohammed bin Rashid Al Maktoum Solar Park, the world's largest single-site solar project with a planned capacity of 5,000 megawatts (MW) by 2030," said HE Saeed Mohammed Al Tayer, MD & CEO of DEWA.
HH Sheikh Hamdan bin Rashid Al Maktoum, Deputy Ruler of Dubai, Minister of Finance, and President of DEWA, opened the M-Station for electricity generation and water desalination, in Jebel Ali in April 2013. The Jebel Ali Power Station (JAPS)'s M-Station is one of the main pillars that enable DEWA to provide Dubai with a very reliable, efficient and high-quality electricity and water supply.
DEWA works tirelessly to enhance its total production capacity, which is currently 10,000 MW of electricity and 470 million imperial gallons (MIGD) of desalinated water per day. DEWA recognises that securing the supply of electricity and water, and ensuring their long-term sustainability is critical to achieving the vision of the wise leadership.
DEWA works to anticipate the future, to meet all future requirements and needs. The M-Station is a new national landmark, and adds to DEWA's growing list of achievements over the last five decades.
"The M-station is the largest power production and desalination plant in the UAE, with a current total capacity of 2,185MW of electricity and 140 MIGD. The station adopts the highest levels of availability, reliability, and efficiency, using the most advanced technologies in the world.
It is equipped with the latest smart devices and sophisticated heavy-duty technological systems. M-Station was built at a cost of AED 10 billion and AED 150 million. AED 6.2 billion was invested in the generation of 2,185 MW of electricity from 6 gas turbines ("F" model) with a capacity of 255 MW for each unit, 6 boilers for waste heat recovery and 3 steam turbines, with capacity of 218 MW each.
The project has been implemented in phases since mid-2010. Water desalination systems costing AED 3.95 billion use 8 desalination units, deploying the Multi-stage flash distillation (MSF) technology, with a capacity of 17.5 MIGD each and totalling 140 MIGD, two dual-fuel fired auxiliary boilers of 390 tons per hour, and 16 fuel oil storage tanks each with a capacity of 20,000 cubic metres, with total fuel oil storage of 320,000 cubic metres.
The M-Station's current thermal efficiency measures at 82.4%," said Al Tayer.
Expansion of M-Station Power and Water Desalination Plant
Since 2015, DEWA has worked with Siemens on the construction of the Jebel Ali M-Station expansion, as the total cost of M-Station construction along with the expansion project reaches AED 11.5 billion. The substation's total capacity will reach 2,885 MW when the project is completed in 2018.
The expansion project includes the provision of new power generating units adding a further 700MW to the installed generating capacity of M-Station. DEWA appointed Mott MacDonald as the project consultant. The expansion project includes the addition of two dual-fuel gas turbine generators, two heat recovery steam boilers, and one steam turbine with 90% of fuel efficiency.
This will increase the plant's thermal efficiency from 82.4% to 85.8%, which is one of the highest thermal-efficiency rates in the world. DEWA has succeeded in enhancing the efficiency of fuel use between 84-90%, while improving production efficiency by 25.47% in 2016, compared to 2006, through the deployment of highly efficient technologies in the production of electricity, and water desalination.
"Led by our long-term strategic planning, investments in our staff, and the deployment of the latest technologies, we have achieved impressive results in the standards of services that we provide to our partners and customers. The project included adding three isolation switches while connecting to the 400/132kV main substation, at a total cost of AED 60 million," said Al Tayer.
In April 2016, Al Tayer inaugurated one of the largest single-rooftop arrays in the region, a 1.5 megawatt direct current (MWdc) photovoltaic (PV) generation project at JAPS, and successfully connected it to DEWA's grid. This supports the Shams Dubai initiative, which encourages building owners to install photovoltaic (PV) panels on their rooftops to generate electricity from solar power, and engages the community in the production of electricity from solar energy.
The project, which is one of the largest single-rooftop arrays in MENA for generating electricity from solar energy, aims to preserve the environment, and lower the country's carbon footprint, while also encouraging the development of a green economy, to achieve sustainable development.
DEWA installed 5,240 PV panels on the 23,000 square-metre roof of the water reservoir at the M-Station.
The modules will produce 1.5MW by converting solar energy into electricity, which will be used to meet the station's energy needs, and will generate 2,666 MW/h of clean electricity annually.
The project aims to increase dependence on renewable energy, and reduce the carbon emissions produced by different operations at the station by reducing about 1,500 tonnes of the carbon dioxide annually.
Surplus energy will be exported to an internal power network at DEWA's Jebel Ali unit.
Drones to inspect PV panels
DEWA has started using unmanned aerial vehicles (UAVs) to check on the PV panels situated on the roof storage water tank of M-Station in Jebel Ali.
UAVs save considerable time and effort as they completely scan the building's roof, which has an approximate area of 23,000 square feet, in a very short time while providing Ultra HD (4K) images with a resolution of over 20 megapixels.
DEWA adheres to the highest safety and security standards by outfitting drones with sensors and anti-magnetic field paint to neutralise their effects on users and on DEWA's assets.
Follow Emirates 24|7 on Google News.