Kerala-based jewellery chain expands on Maradona magic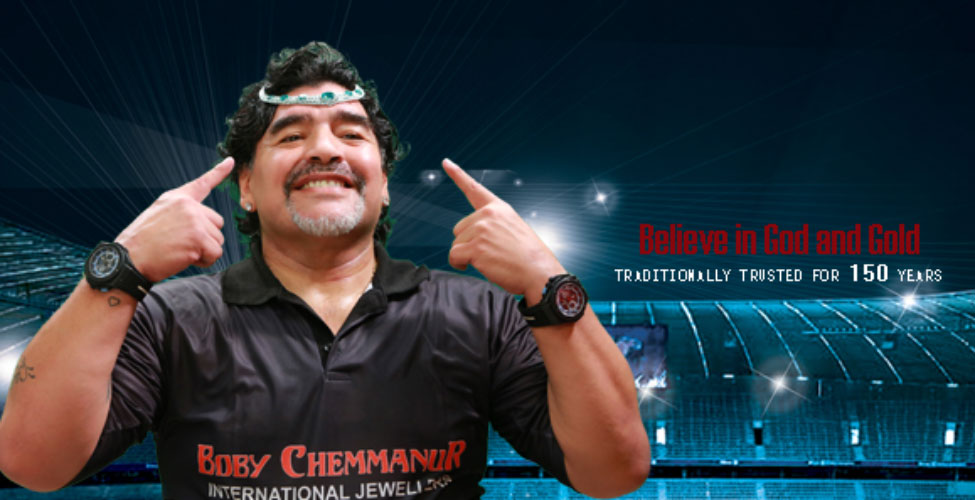 Four months after the world soccer sensation Diego Maradona was roped in as the brand ambassador of a leading jewllery chain of Kerala for its Dubai and other international outlets, the jewellery owners are all set to expand its global presence by opening more branches in the international markets with considerable football fans.
Chemmannur International Jewellers will soon open a second outlet in the UAE in Jebel Ali.
The jewellery chain also plans to open an outlet in the football icons own home country, Argentina, apart from Malaysia, Japan, Singapore, China and Japan.
Speaking to Emirates 24|7, Harish Menon, Operations Manager of Chemmannur International Jewellers, said the jewellery chain has a ten-year contract with the Argentina player, who is currently the brand ambassador of Dubai Sports Council.
The jewellery chain has released a gold coin with Maradona's picture on one side and his signature on the other. It is planning pendants and other jewellery as well to woo football crazy clients Malabar region, home to large number of Non Resident Keralites. Many eyebrows were raised when an international sports icon like Maradona was chosen to open a small jewllery showroom in the Malabar region of Kerala earlier. Today the jewelers have 26 outlets in Kuwait, the UAE and India.
Diego Maradona grabbed headlines when he reached Kannur, Kerala, a hot bed of South Indian football enthusiasts, for a two-day visit to open jewllery chain - Boby Chemmannur International jewllers LLC.
His presence has helped boost sales and reportedly the outlet sells between 8-10 kgs of gold.
It may be recalled that the soccer star celebrated his 52ndbirthday in grand style in Kannur in a public stadium that was overflowing with a huge crowd of soccer fans, celebrities, politicians and the media.
While most Indian jewellers have roped in local or national film stars such as Mohan Lal, Hema Malini, etc, Chemmannur International tried a different personality from the sports field.
"Two years ago, we asked him to inaugurate our Dubai Showroom and later took him to Kannur. Our association with Maradona has paid off well."
"We will take Maradona to other international locations like Malaysia, Singapore, Hong Kong and Asian countries where football is a major sports activity," added Menon.
The group is gearing up to open its first branch in Malaysia; a second branch in Jebel Ali, UAE. Prominent South Indian actress Tamanna, Bangla film actress Joya Ahsan and celebrated Pakistani cricketer Abdul Razaq will jointly inaugurate the Jebel Ali showroom.
Follow Emirates 24|7 on Google News.