McDonald's UAE launches digital self-ordering kiosks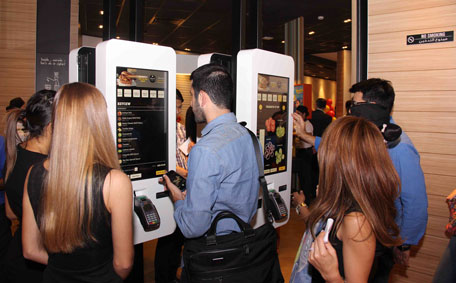 Global fast food chain is poised to take its customer experience to next stage in the UAE whereby the customers can customise their burgers by selecting through tablet-like kiosk and then the order will be delivered by the staff using GPS to locate the customer in the restaurant.

'Create Your Taste' concept will see customers ordering from a tablet-like kiosk where they can customise everything from buns to cheese to toppings and sauce, hence allowing them to build their own burger or try new signature burgers.

"As a global brand making the UAE its country for the last 20 years, we realised the importance of personalisation to our customers. Introducing 'Create Your Taste' is another step in our journey to serve the community we are part of," said Rafic Fakih, Managing Director and Partner at McDonald's UAE.

Introduced first in Ghurair Centre outlet, the service will be rolled out in selective other restaurants soon.

Orders placed from the 'Create Your Taste' menu take 5-8 minutes to prepare and are hand delivered by a crew member directly to the customer's table, and arrives open-faced, in a special wooden tray. Even French fries are served in a mini stainless wire basket.

The tables will be outfitted with GPS devices so that food is delivered directly to customer's tables by a dedicated service team.


'Create Your Taste' concept has first launched in California earlier this year, and is gradually expanding to a number of locations across the world.

As the global fast food chain is trying to innovate itself in different markets where the cut throat competition is biting into its bottom line.

Last month, it announced starting taking reservations and providing table service at dinner time in a revolutionary experiment in Sweden.

Follow Emirates 24|7 on Google News.