Nakheel awards AED1.5 billion contract to build The Palm Gateway triple tower and beach complex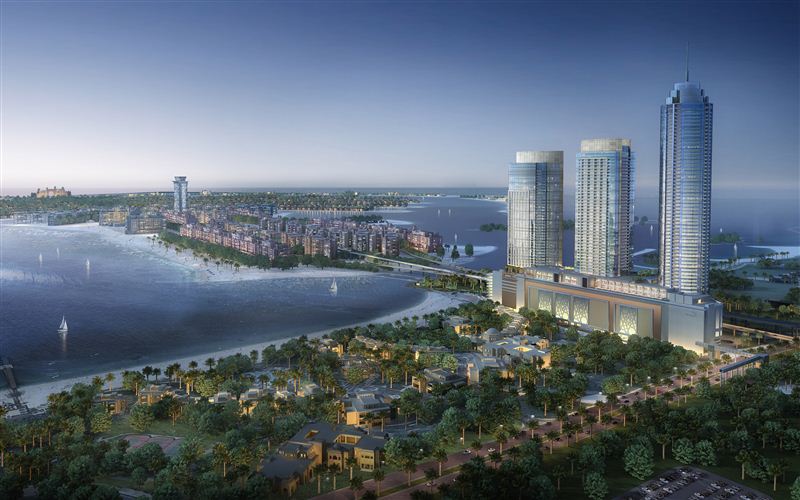 Dubai master developer Nakheel has signed a construction contract worth nearly AED1.5 billion for The Palm Gateway, a new, three-tower residential, retail and beach club complex at the foot of the world-famous Palm Jumeirah.
Nakheel has appointed Shapoorji Pallonji Mideast LLC to carry out the work, which will begin in Q2 2017 and take two and a half years to complete.
Nakheel Chairman Ali Rashid Lootah said: "The Palm Gateway contract is among AED12 billion worth of construction contracts to be awarded by Nakheel this year. We look forward to delivering another iconic, landmark project at the entrance to Palm Jumeirah through this first-time collaboration with Shapoorji Pallonji."
Shapoorji Pallonji Mideast LLC, part of the Shapoorji Pallonji Group, has been active in the region for the over 45 years, delivering a range of prestigious projects. M. D. Saini, Managing Director and CEO, Shapoorji Pallonji International FZE, said: We are honoured and excited to have been selected to deliver this prestigious project."
The Palm Gateway includes 1,265 luxury apartments across three high-rise buildings – the tallest topping 285 metres – to be constructed on top of the existing Palm Monorail terminal, which includes 14 levels of parking spaces. Units range from one to three bedrooms and will be available on lease.
The waterfront living and leisure complex, set in extensively-landscaped grounds, will also have an abundance of retail, dining and health and fitness facilities, including parks, pools, and sports courts.
The Palm Gateway will boast convenient transport links to other parts of the island and to the rest of Dubai. The Palm Monorail, which will remain operational throughout the construction of the project, is already connected to the Dubai Tram and the Dubai Metro, giving residents and visitors easy access to alternatives to the car.
With panoramic views of Palm Jumeirah, the Arabian Gulf and some of Dubai's most famous landmarks, The Palm Gateway will also have its own beach club and park – a shaded, landscaped complex with a diverse range of waterfront dining and shopping options, pool, barbecue areas and fitness facilities, including a jogging track.
The Palm Gateway is one of a number of new projects in Nakheel's growing residential leasing portfolio, which is set to double to more than 35,000 units, with other new developments coming to Palm Jumeirah, Warsan Village, Jebel Ali Village, Dragon City, Ibn Battuta Mall and Nad Al Sheba.
The Palm Gateway is one of three high rise developments by Nakheel on Palm Jumeirah.
The Palm Tower, a 52-storey luxury hotel and residential complex at the centre of the island is under construction, while PALM 360, a 220 metre twin-tower penthouse, apartment and hotel complex, is currently being designed.
The Palm Gateway at a glance:
- A trio of towers comprising 1,265 apartments and duplexes for lease
- 5.5 million sq ft gross floor areaTubular Tower (285 metres, 59 floors including 44 above podium level); Central Tower (205 metres, 48 floors
- including 33 above podium); Beach Tower (206 metres, 48 floors including 33 above podium)
- 32 beach-facing apartments and 16 duplexes in existing 14-storey Gateway building
- Almost 4,000 parking spaces
- 15th floor landscaped podium deck with pool, sports courts and 8,600 sq ft of retail space
- Beach club with kiosks and restaurants
- Gym, spa, pools, sports courts and jogging track
- Supermarket and food court within podium building
- Palm Monorail onsite
- Extensive views of Palm Jumeirah, the Arabian Gulf and the Dubai skyline
Follow Emirates 24|7 on Google News.