NBAD net profit for 2012 rises 16.8%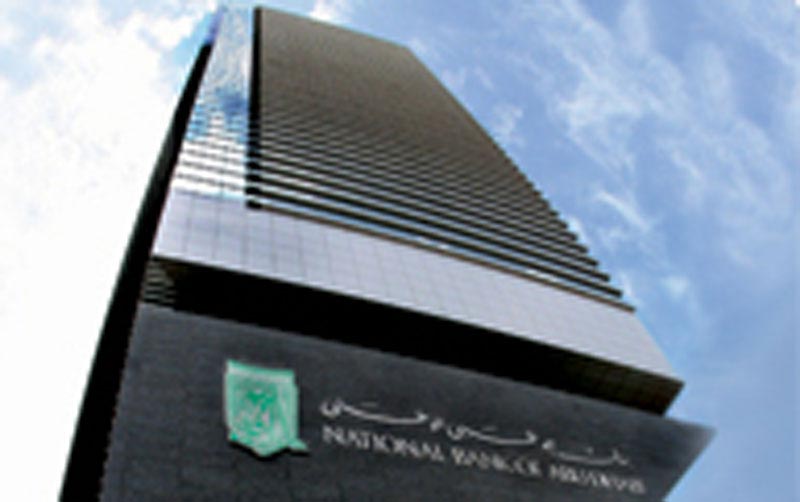 The National Bank of Abu Dhabi (NBAD) earned a net profit of Dh4,332 million for the year ended 31 December 2012, up 16.8 per cent from Dh3,708 million for the year ended 31 December 2011.

This represents diluted EPS of Dh1.04 for 2012 versus Dh0.88 for 2011.

Net profit for the fourth quarter of 2012 wasDh1,120 million, up 54.8 per cent from Dh724 million in the fourth quarter of 2011.

The growth for both fourth quarter and full year 2012 was due primarily to higher investment and interest income.

The annualised return on shareholders' funds for the year was 16.5 per cent, which represents a slight improvement over 16.3 per cent for 2011.

Nasser Al Suwaidi, Chairman of NBAD, said, "In the face of ongoing global challenges, NBAD continued to deliver strong, consistent performance whilst maintaining a strong balance sheet. In 2012, we repaid a significant portion of the Ministry of Finance notes and also issued the first-ever issuance of a subordinated debt by a non-Malaysian financial institution in Malaysia.

"These actions serve as a testament to both the success of our global business model and the strength of our balance sheet. I am proud of our leadership team and our staff and their ability to deliver impressive results in this challenging environment and look forward to more success in 2013."

Michael Tomalin, Group Chief Executive, said: "2012 was a year in which we continued to see challenges across the globe. Despite these difficult conditions, NBAD delivered record profits by growing net earnings 17 per cent whilst also expanding revenues by 10 per cent. Our growth was a result of the success of our diversified business model, investment gains driven by favourable financial market conditions and successful hedging strategies. We also continued to expand our international presence by opening offices in China and Malaysia, and we have set a target of expanding internationally from 14 countries to 41 countries by 2022.

''Our capital and liquidity positions remain pillars of strength, and we are very confident in our ability to comply with all upcoming changes in the regulatory framework. In 2012, we were once again ranked as one of the "World's 50 Safest Banks" and the safest bank in the Middle East by Global Finance.

''We are well positioned for continued success in 2013 as a result of our solid business model, and most importantly, our talented team of dedicated staff," Tomalin said.

Operating income increased by 10 per cent to Dh 8,671 million from Dh7,881 million in 2011. Net interest income and net income from Islamic financing grew at a steady pace throughout 2012, up 5.1 per cent to reach Dh6,096 million. Net fees and commissions grew by 10.9 per cent to Dh1,546 million in 2012 compared to Dh1,394 million in 2011. Overall, non-interest income grew strongly by 23.9 per cent in 2012 to Dh2,575 million, driven largely by an increase of Dh444 million in investment income over 2011. Total investment gains of Dh537 million reflect improvement in the financial markets as well as successful hedging strategies.

Net interest margin declined to 2.14 per cent for the full year 2012, lower than 2.43 per cent for the corresponding period of 2011 due to an increase in short-dated secured lending and a more liquid balance sheet. The percentage lent (loans and advances to total assets) at the end of 2012 was 55 per cent compared with 62 per cent at year end 2011.

Total assets were Dh300.6 billion as of 31 December 2012, up 17.6 per cent versus 31 December 2011 and down by 1.3 per cent versus 30 September 2012.

Loans and advances to customers were Dh164.6 billion as of 31 December 2012. Loan growth of 3.2 per cent year on year for the group was slower than anticipated.

Customer deposits were Dh190.3 billion, up 25.4 per cent as of 31 December 2012. Similar to first and third quarter this year, the fourth quarter also had significant inflows and outflows of government deposits, some of which are of a short-term nature. These deposits have been placed across various classes of liquid assets on similar tenors.

Capital resources of Dh36.8 billion were higher by seven per cent over 31 December 2011, consisting of shareholders' funds of Dh27.1 billion (including a Dh1.6 billion increase in fair value reserve on investments due to favourable market movements), GoAD Tier-I capital notes of Dh4 billion and subordinated notes of Dh5.7 billion.


Follow Emirates 24|7 on Google News.