NFPC to invest Dh1.5bn in Kizad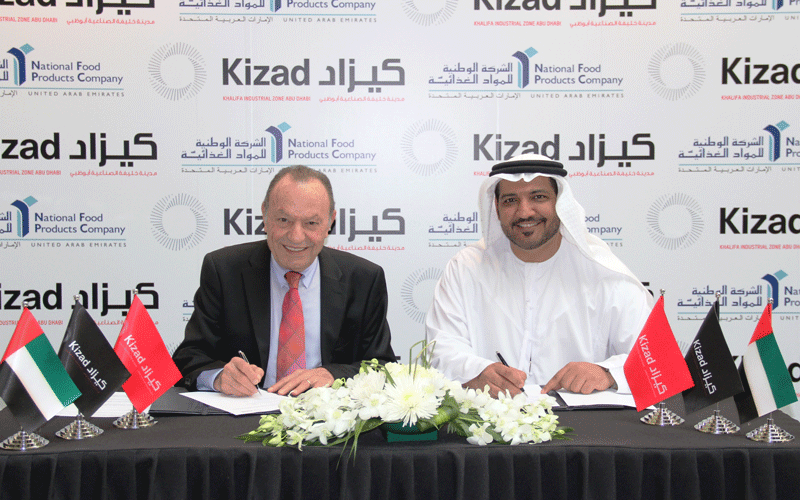 The Khalifa Industrial Zone Abu Dhabi (Kizad) has announced the signing of a 50-year musataha agreement with the National Food Products Company (NFPC), known for its brands such as Oasis, Blu, Milco, Lacnor and Gulf & Safa.

The deal sees an initial investment of approximately Dh 1.5 billion in the facility that will be spread across 8,093,469 sq. ft.

The signing took place on Sunday at the Gulfood exhibition 2014 at Dubai's World Trade Centre on the Kizad stand, and was executed by Khaled Salmeen, CEO, Kizad, and Fady Antonios, CEO & President, NFPC.

Salmeen said:"Kizad and NFPC are delighted to announce the signing of this agreement. NFPC has chosen Kizad as their next location for its biggest, state of the art food production facility.

Fady Antonios from NFPC said, "the establishment of the mega facility at Kizad is a key milestone in developing our operational capabilities to enable a new paradigm of growth for our market leading brands in the food and beverage sector.

The location of Kizad between the two largest economies of the UAE coupled with access to the Etihad Rail and Khalifa Port will create a strategic advantage for us to reach existing and new markets efficiently".

Kizad announced its first participation in Gulfood this year, from February 23 to 27. Kizad management took the opportunity to make this announcement about their signing with NFPC, stating that the ground breaking for the factory would take place in Kizad in Q2 2014 and the estimated commencement of operations would be end of Q1 2017.

"With more than 4,200 exhibitors from 152 countries, Gulfood offers an excellent opportunity to showcase our relevant clusters, including food, packaging, mixed use and the logistics park, to leading national and international food manufacturers. The food processing industry in the GCC region promises substantial growth over the next few years and we intend to be a major player in this growth in the further development stages of our industrial zone", says Khaled Salmeen, CEO and Managing Director of Kizad.

Kizad announced last year the addition of Brasil Foods (BRF), South America's largest food processing company, who are nearing completion of their Dh533 million facility, set to begin production in mid-2014. The facility at Kizad, the largest ever built (1,743,000 sq.ft.) by the company outside South America, will be producing meat products, marinated processed foods and bread based foods under the Sadia and Perdigão brands.

According to an international report published in 2013 , over the next three to four years the GCC region's food consumption is expected to grow at a Compound Annual Growth Rate (CAGR) of 3.1 per cent, with an expected spending on food to reach $106 billion. The report also revealed the UAE as the leading GCC country in terms of annual food per capita consumption (1,486 kg), followed by Oman (1,095 kg) and Saudi Arabia (872 kg).

Follow Emirates 24|7 on Google News.