Qatar Airways now flies from Ras Al Khaimah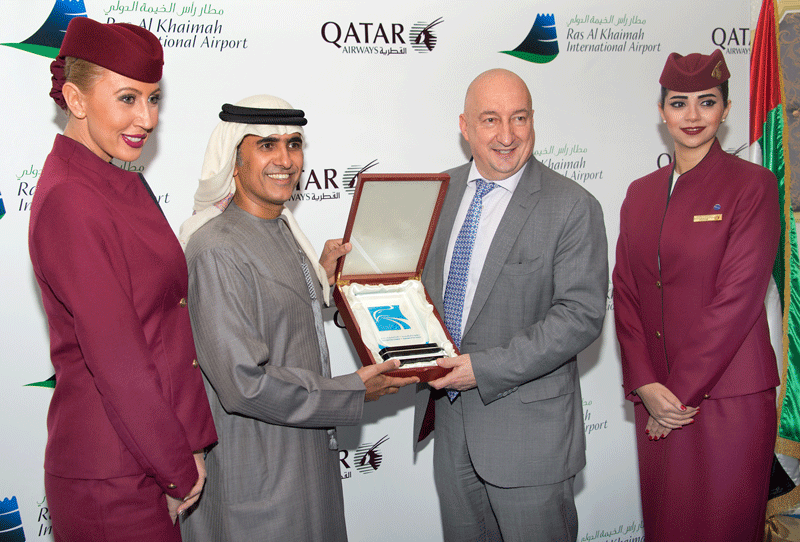 At 10:30pm last night (Tuesday), QR1120 landed at Ras Al Khaimah International Airport, marking the start of scheduled services between the Emirate and Doha.
Mohammed Qazi, CEO, RAK International Airport, and Haitham Mattar, CEO, Ras Al Khaimah Tourism Development Authority, welcomed the airline and senior Qatar Airways delegates on the flight, headed by Chief Commercial Officer Dr. Hugh Dunleavy.
"Qatar Airways' arrival is major milestone for Ras Al Khaimah on a journey we started almost four years ago. Through Qatar Airways, Ras Al Khaimah will have stronger connections to the wider world, including our existing tourism source markets in Europe, CIS, and Russia as well as new markets such as China and India, where we are promoting Ras Al Khaimah as the authentic tourist destination of the country," said Salem bin Sultan Al Qasimi, Chairman of RAK International Airport and Department of Civil Aviation.
"It also presents an efficient option for the Emirate's business community and their visitors, will positively fuel our cargo growth, support the economy and raise the profile of the destination as a whole. We'd like to thank Qatar Airways for their support," he added.
"Qatar Airways' network expansion will undoubtedly increase the flexibility and choice for our passengers to travel to and from different emirates in the UAE. And we are looking forward to enhance worldwide travel opportunities from Europe, Asia and Americas to new tourist destinations in the region such as Ras Al Khaimah," said Akbar Al Baker, Qatar Airways Group's Chief Executive.
"Qatar Airways will serve the Northern Emirates catchment for both inbound and outbound traffic," said Mohammed Qazi, CEO, RAK International Airport. "This is a catchment area of over one million people who will gain much needed long-haul connectivity via RAK International Airport, the Northern Emirates' Gateway. RAK International is accessible and convenient to travel through, allowing those local communities who have been waiting to take advantage of these new connections," he added.
Qatar Airways will initially operate four flights a week with the anticipation that frequency levels will develop into a daily service in the near future.
RAK International Airport is home to region's largest low-cost carrier Air Arabia which currently operates 10 routes with more destination plans in the pipeline for 2016 and beyond.

Follow Emirates 24|7 on Google News.