Saudi Aramco CEO says to sign $50 billion of deals with U.S. companies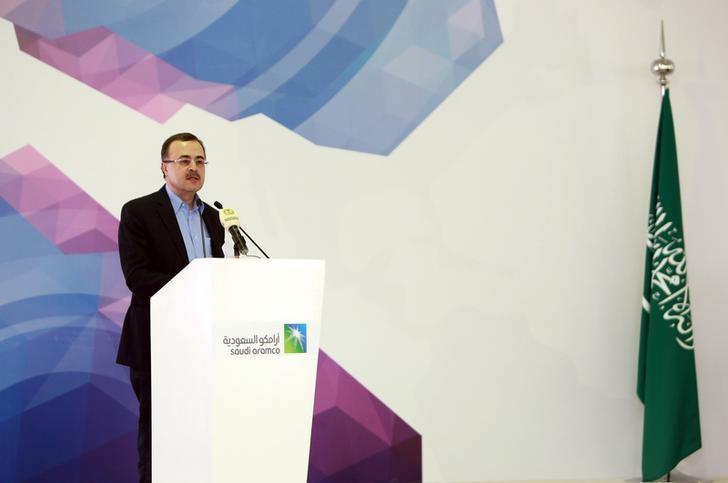 National oil giant Saudi Aramco expects to sign $50 billion (38.36 billion pounds) of deals with U.S. companies on Saturday, part of a drive to diversify the kingdom's economy beyond oil exports, Aramco's chief executive Amin Nasser said.
Nasser was speaking to reporters at a conference of scores of senior U.S. and Saudi business executives, coinciding with the visit of U.S. President Donald Trump to Riyadh.
He said 16 agreements with 11 companies would be signed, including memorandums of understanding for joint ventures. Officials said earlier that many of the agreements would flesh out previously announced plans.
"We expect the deals signed today to provide a boost to bilateral trade between both countries," Nasser said, adding that Aramco currently spent $6.5 billion a year on goods and services from U.S. suppliers.
Among the deals, executives said, were a plan by Jacobs Engineering Group Inc for a joint venture with Aramco to manage business projects in the kingdom, and a plan by McDermott International to transfer some of its ship fabrication facilities from Dubai to a new shipbuilding complex which Aramco will build within Saudi Arabia.
Top Saudi economic policy makers, including the finance minister and head of the kingdom's main sovereign wealth fund, described ways in which they planned to attract U.S. capital and technology. Officials said they aimed to prepare new rules covering direct investment by foreign firms within 12 months.
"We want foreign companies to look at Saudi Arabia as a platform for exports to other markets," Energy Minister Khalid al-Falih told the conference.
Follow Emirates 24|7 on Google News.