Struggling Gulf Air sacks 15% staff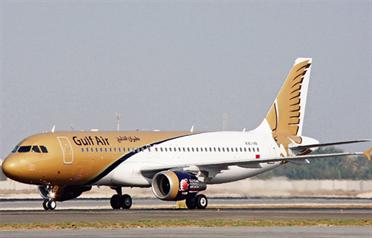 Bahrain's loss-making flag carrier Gulf Air, struggling against competition from other regional carriers, has embarked on a sweeping restructuring plan that has annoyed unions over heavy job cuts.

The company said this week it had sacked 15 per cent of its staff and closed four more routes in January as it pressed ahead with a restructuring plan that it launched a month earlier.

The carrier, one of the Gulf region's oldest airlines, has been struggling to cut losses mounted by stiff competition from fast growers like Dubai's Emirates, Abu Dhabi's Etihad and Qatar Airways, as well as rapidly expanding budget airlines like flydubai and Air Arabia.

Gulf Air was established in 1974, Abu Dhabi, Oman and Qatar partnering with Bahrain. By the early 1990s, it had become the largest Middle East carrier.

But its star shone only briefly. By the middle of the decade, it started to lose ground because of an economic downturn in the oil-producing region and competition from new carriers.

Bahrain's erstwhile partners divested and focused on building their own airlines, leaving Manama to bear the losses.

A number of chief executives have been successively hired to restructure the carrier, including former Royal Jordanian chief Samir al-Majali who resigned just months ago after failing to replicate his success in revamping Jordan's flag carrier.

Precise figures are unavailable, but Bahrain sovereign wealth fund Mumtalakat said last year that it lost 270.6 million dinars ($171.6 million) in 2011, due mainly to Gulf Air.

The revamp aims to redraw the airline's network, focusing on point-to-point routes, as well as resising the work force.

"In January a total workforce reduction of 6 percent was realised. This to date has increased to 15 percent," Gulf Air said on Monday.

This is being achieved through non-renewal of contracts, restructuring in outstations, natural attrition and a voluntary retirement scheme.

But Gulf Air's union is not happy, and is in talks with the labour ministry, but has not said what action it might take.

Union spokesman Mohammed Mahdi said the company aims to dismiss a total of 1,266 employees in the first stage of restructuring -- 600 Bahrainis and 666 foreigners.

"That is more than 30 per cent of the total workforce of 4,000 employees," he said.

However, very few Bahrainis have accepted the retirement proposal.

"Bahrainis have open-ended contracts, while foreigners have fixed-term contracts," that are easy not to renew, Mohammed Mahdi told AFP.

For its part, the company said Bahrainis working at the headquarters now account for a record high of 85 percent.

It said earlier that it had increased its initial offer for compensation for retiring Bahraini employee.

Mahdi also said "outstations should not be shut down without feasibility studies," claiming that some of those closed destinations were busy routes.

He also complained of a "lack of transparency."

The airline said also it closed down several loss-making destinations as it re-aligns its network with a focus on regional routes instead of the "low-yield transit traffic," where big Gulf carriers are making long leaps.

"Gulf Air continues to differentiate itself from its regional competitors and carve a long-term niche in a highly competitive business environment," it said.

The carrier said it has also begun to "simplify and align" its fleet with its revised network needs, expecting to do so by April.

It currently operates an all Airbus fleet of 26 planes.

In November, Gulf Air said it had cut orders of Airbus A330 and Boeing 787 long-haul planes as it adapts to its new positioning as a regional carrier.

It is not the first time that Gulf Air reduces its workforce over the past years in its struggle to cut losses.

In 2009, Gulf Air sacked 500 employees, when officials said it had already run up total losses of more than one billion dollars.

Earlier this month, Bahrain's second carrier, privately held Bahrain Air, announced entering liquidation after going bankrupt.


Follow Emirates 24|7 on Google News.